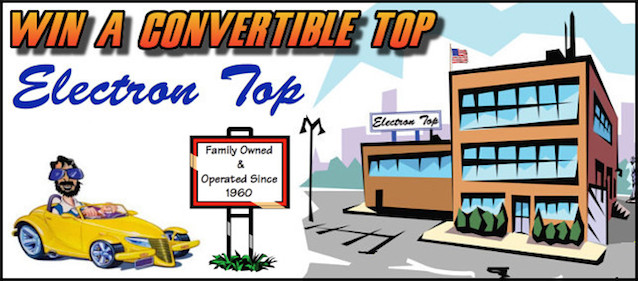 As if you needed another reason to love Electron Top, they've graciously volunteered to sponsor our latest "Comment of the Week" give away by putting up a convertible top as the prize!
That's right! The winner of this week's contest will take home a gift certificate for one 1968-on standard American black or white convertible top made from original vinyl-textured Haartz single-ply material.
Install the convertible top on your own car or use it on a job to increase profit margin. You decide!
Want to win? The rules are simple. Read any article or forum thread (new or old) on The Hog Ring and leave a comment. At the end of the week our editors will choose the trimmer who left the best comment, and send him/her the prize! The more you comment, the better chance you have of winning!
What makes a comment the best? It could be anything that adds value to our auto upholstery community. We're particularly fond of comments that offer help, advice or constructive criticism. Smart and witty ones are great too! Basically, we want to reward folks that help make this site the awesome resource that it is.
Special thanks to Electron Top! Their slogan – "Our reputation is tops!" – is no joke. Electron Top is recognized throughout the auto upholstery industry as a manufacturer of quality convertible tops, and is as dedicated to our success as they are theirs. That's evident in their sponsorship of The Hog Ring and refusal to sell retail.
Whatever you need, you'll find it at Electron Top. Their pattern list dates back to the early 1900s and includes nearly every domestic and import convertible top manufactured. Best of all, their staff is knowledgeable, experienced and always available to answer installation questions.
To learn more about Electron Top or to set up a business account, call (800) 221-4476 or visit ElectronTop.com.