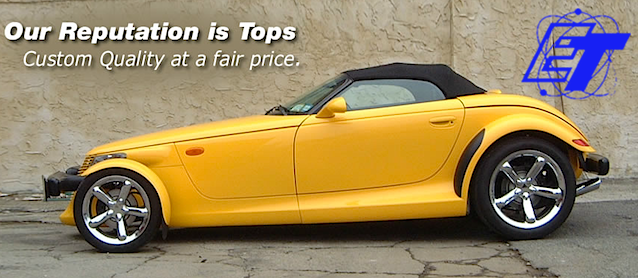 It's with great pleasure that we introduce The Hog Ring community to our newest site sponsor: Electron Top Manufacturing Co., Inc.
Electron Top manufactures quality replacement convertible tops made to exact factory specifications. Their pattern list dates back to the early 1900s and includes nearly every domestic and import convertible top – from Chevy to Alfa Romeo, and everything in between.
Best of all, Electron Top's products and customer service are second to none. They set the standard for how business should be conducted. Their staff is knowledgeable, experienced and always available to answer installation questions.
A Family Affair
Like most of us, Electron Top is family run. The company's history stems back to owners Skip, Rick and Kimmy's late grandfather Henry Yudt, who was first introduced to this industry in 1909 when he apprenticed at a carriage factory in Budapest, Hungary.
In 1920, he immigrated to the United States and opened his own shop, where he developed a reputation for hard work, quality service and customer loyalty. In fact, he became the first trimmer to ever be inducted into the industry's "Hall of Fame".
As years passed, son-in-law Fred W. Strauss Jr. took over and developed the business to meet other shops' needs for quality replacement convertible tops. Electron Top was born in 1960 and has grown to become one of the industry's leading suppliers.
Industry Loyalty 
Fred had an unwavering commitment to strengthen the automotive upholstery industry – which led him to become the first president of the Auto Trim Association of New York. He organized top installation demonstrations, Auto Trim Dinners, and even took part in Trimorama competitions. His commitment to our industry was recognized when he too was inducted into the Auto Upholsterers "Hall of Fame" by none other than Nat Danas.
To this day, Electron Top still carries the same steadfast loyalty to the automotive upholstery industry. In fact it is the only convertible-top supplier to vow never to sell its products directly to the public.
On a personal note, my auto upholstery shop has been a customer of Electron Top for nearly four decades – and not once have we ever had a problem with their products or services. That's why we so feel so confident about recommending them to The Hog Ring community.
Electron Top has been a devoted supporter of The Hog Ring since the beginning – even promoting our site in their monthly newsleteer, "Keep in Touch". By becoming a sponsor, Electron Top is taking further steps to champion our cause of strengthening and growing the auto upholstery community.
Please show your gratitude and support by making Electron Top your auto upholstery shop's primary supplier of convertible tops.
To learn more about Electron Top, including information on how to set up a business account, visit our sponsors page.