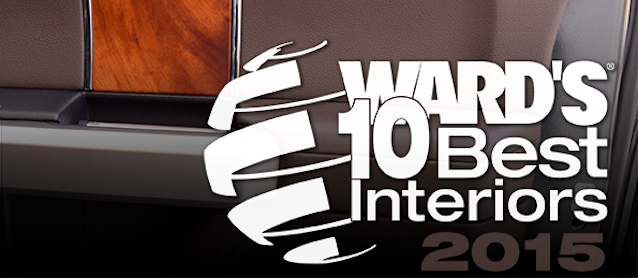 Just in time for next month's interiors conference, WardsAuto has released its annual list of the "10 Best Interiors." Unlike last year's list, which featured the Rolls-Royce Wraith and Mercedes-Benz S550, every car that made the cut is affordable.
In a press release, WardsAuto explains:
While last year's winners included four vehicles priced above $68,000, such as the $372,800 Rolls-Royce Wraith, the 2015 class is downright proletarian: The most expensive interior honored comes in a top-of-the-line version of the all-new Mercedes C-Class sedan, priced at $65,000 with all-wheel drive and a 329-hp bi-turbo V-6.
"It's important that great interiors be available in every class of vehicle, not just luxury models that most consumers will never be able to afford," says WardsAuto World Editor-in-Chief Drew Winter.
"In this year's competition, we saw a lot of evidence that automakers are thinking creatively about interiors and putting a lot of design horsepower into not just luxury vehicles, but pickups, minivans and family sedans. And they are investing more in high-quality trim materials, electronic features and other details that will surprise and delight shoppers," Winter says. [read more]
The 10 winners — listed below in alphabetical order — were selected from a pool of 42 vehicles driven by WardsAuto editors who scored and ranked them based on ergonomics, driver information, fit-and-finish, materials, value, safety, comfort and design harmony.
2014 BMW i3
2015

Chrysler

300C Platinum
2015

Ford

F-150 King Ranch
2015 GMC Canyon SLT
2015

Honda

Fit EX-L
2015 Jeep Renegade Limited
2015 Kia Sedona SXL
2016 Mazda6 Grand Touring
2015 Mercedes C400
2015 Nissan Murano SL
The winners will be honored at next month's WardsAuto Interiors Conference in Dearborn, Michigan. For interior photos, as well as a detailed explanation of why WardsAuto selected these 10 models, see the "Ward's 10 Best Interiors" web page.