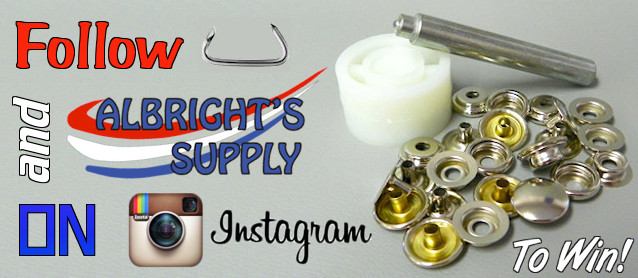 This week only — follow both The Hog Ring and Albright's Supply on Instagram and you could win a snap setter kit with everything you need to get started!
When we say everything, we mean EVERYTHING. In addition to the punch and die, the winner will receive boxes of buttons, sockets, cloth studs and eyelets — courtesy of Albright's Supply.
Why follow us on Instagram?
The Hog Ring uses its Instagram page to highlight outstanding work by auto upholstery shops all over the world. It's a great way to see – and get inspired by – what other trimmers are doing.
Albright's Supply uses its Instagram page to highlight their latest sales and promotions — including steep discounts, give aways and more. They even use their page to promote other shops!
Want to win? The rules are simple. Follow both The Hog Ring (@TheHogRing) and Albright's Supply (@Albrights_Supply) on Instagram. At the end of the week, we'll put the names of everyone who follows both accounts into a hat and pick a winner.
Special thanks to Albright's Supply! Specializing in automotive and marine trim, Albright's Supply has one of the largest inventories in the United States and a network that extends throughout the country. They're known and trusted throughout the upholstery industry for providing outstanding value and superior customer service. In fact, Albright's Supply will often go out of their way to find customers trim products they don't carry, and even provide free shipping on all orders of $150 or more.
To learn more about Albright's Supply, visit AlbrightsSupply.com or call (662) 287-1451. Also, keep your eyes on The Hog Ring, where we frequently feature their latest sales and promotions.