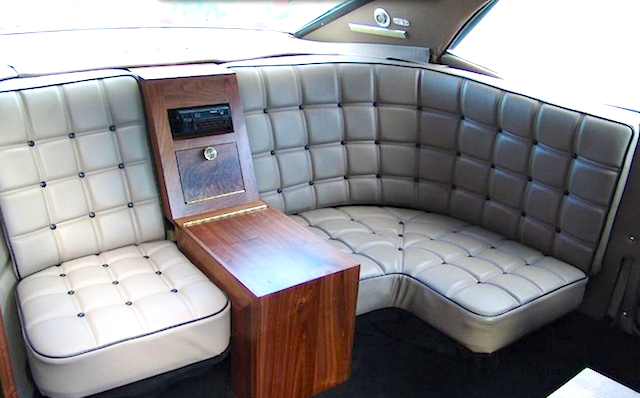 Check out the custom wraparound bench seat in this 1967 Oldsmobile Toronado 70-X built by world-famous hotrodder George Barris.
George built four of these Toronados for the 1967 Canadian Expo. While most people would be attracted to the heavily modified body of the Olds, it's the interior that has me captivated. Most especially, the custom backseat that looks more like an L-shaped sofa than a traditional rear bench.
Barris eliminated the driver-side rear door panel to make room for the custom seat that wraps from the left-side doorjamb to the right-side door panel.
I absolutely love the design. It looks both luxurious and inviting. My only issue with it is the center console that splits the seat in two. Personally, I think it would have looked much better as one continuous bench seat.
The design is most definitely unique. It's been nearly 50 years since the Olds was built and I have yet to see another car replicate the custom backseat.
For more photos of the 1967 Oldsmobile Toronado 70-X, check out Autoblog.