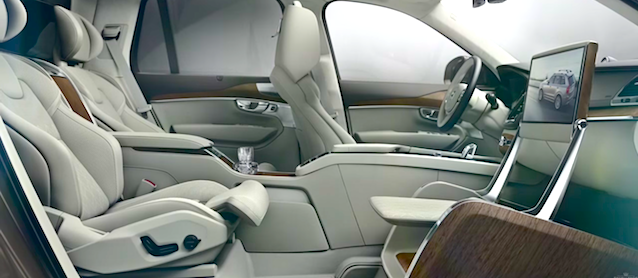 While many automakers are busy transforming the interiors of self-driving cars into lounges, Volvo Group has gone ahead and done it to a traditional vehicle — and it's pretty freakin' cool!
The Volvo XC90 Lounge Console concept, which debuted at last week's Shanghai Auto Show, features a transforming console instead of a front passenger seat that serves as an Ottoman to passengers and so much more.
In addition providing passengers with increased leg room, the console houses a work table, vanity mirror, storage tray and shoe drawer. If that's not enough, it also comes equipped with a folding 17-inch media screen that you can use to watch movies or connect to your lap top computer.
The result is more akin to flying first class on Qatar Airways than sitting in the backseat of a Volvo sedan.
"Removing the passenger seat enabled us to create an open space that dramatically changes the dynamics of the interior and led to a firework of ideas and new possibilities," explained Thomas Ingenlath, Senior Vice President of Design at Volvo Group.
Volvo admits that it's not the most practical solution for car buyers seeking extra legroom. But then again, it wasn't engineered for the average car buyer. In fact, Volvo says the XC90 Lounge Console was designed with the wealthy chauffeured-type in mind
Check out this promo video to see how the console works:
What do you think? Would you like one of these consoles in your car? Or is it too impractical for everyday drivers?