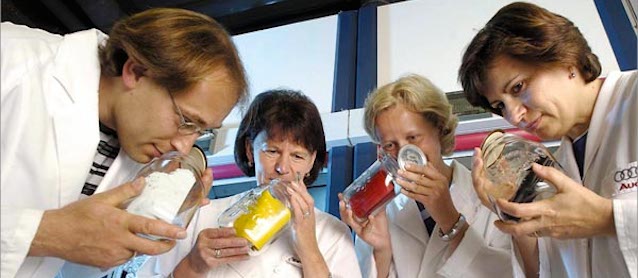 Much has been made of "new car smell," the plastic, possibly toxic aroma that lingers in vehicles fresh off the assembly line. Because many folks can't stand the odor, automakers and dealers have gone to great lengths to mask or minimize its presence, often resorting to air freshners and sprays that are arguably just as repugnant.
Audi, however, has taken the most extreme (and humorous) approach to "new car smell" — by employing an entire team of scientists to sniff its cars.
The Audi Odor Team, known internally as the "Nose Team," smells every vehicle's interior components to detect odors – whether good or bad – then collaborates with engineers to neutralize the scents.
In a description on its website, Audi explains:
They work to ensure a consistently pleasant odor level in Audi vehicles. Plastic parts that give off unpleasant odors, leather that smells like fish oil or floor mats that exude an aroma of onions don't stand a chance at Audi. The same goes for materials that can give off unhealthy emissions in the car. Around 500 different components from each model's interior are analyzed using the human nose as a measuring device. Audi applies the strictest standards in its fight against odors and sets the benchmark for the industry.
Audi notes that the goal isn't to achieve an "odorless car," but "neutral odor" that doesn't offend customers' senses.
In an article for ATZ magazine, Heiko Luessmann-Geiger, head of the "Nose Team," breaks down the process for evaluating and neutralizing foul odors:
First the smell of the air in the car as a whole is tested.
Then the parts mainly responsible for this smell are identified separately.
The next step is to find out which material(s) in the part is/are responsible for the odor.
Once the material(s) has/have been improved, the influence of this step on the part is tested.
Finally the smell of a car with improved parts only is analyzed.
The process makes total sense (no pun intended). And, of course, the effort is commendable. But I have to admit that watching the scientists in action is bizarre, if not downright hilarious. Take a look for yourself:
What do you think? Personally, I haven't noticed that new Audi vehicles smell good or bad. Which, I suppose, means that the automaker is realizing its goal of building "neutral odor" cars.