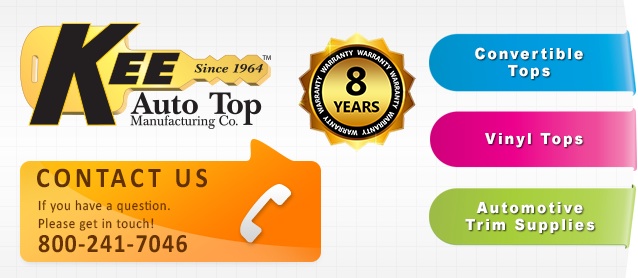 Have you seen Kee Auto Top's new website? Its beautiful layout and simple navigation makes it easy to find anything you're looking for and order it hassle free.
Among the site's features are digitized samples, an online product catalog and, of course, detailed information on Kee's impressive 8-year warranty.
That's not all, there's even a place where you can read and download a copy of Kee's monthly newsletter, which highlights new products, promotions, discounts and other helpful information.
For instance, this month's newsletter features details on the 2005-13 Corvette C6 convertible top, which Kee now manufactures. What's more, items on special discount include double-seem/center-seam vinyl tops and domestic convertible top/hard glass combo buys.
Not what you're looking for? No problem. Kee just published its 2015 Mini Catalog and convertible top/vinyl top sample charts — available to auto upholstery shops for free! Surely, anything you need can be found in there.
Kee explains:
Kee is proud to show off our extensive selection of 110 convertible top samples and 149 vinyl top samples. Not only does the convertible chart show material samples, but describes the principal types of materials, their construction and benefits of each.
The vinyl top chart displays many older colors and hard to find grains. For example, Boar and Levant non-padded, Odense, Calvary Twill and Houndstooth to name a few.
For more details, check out Kee's June 2015 newsletter below: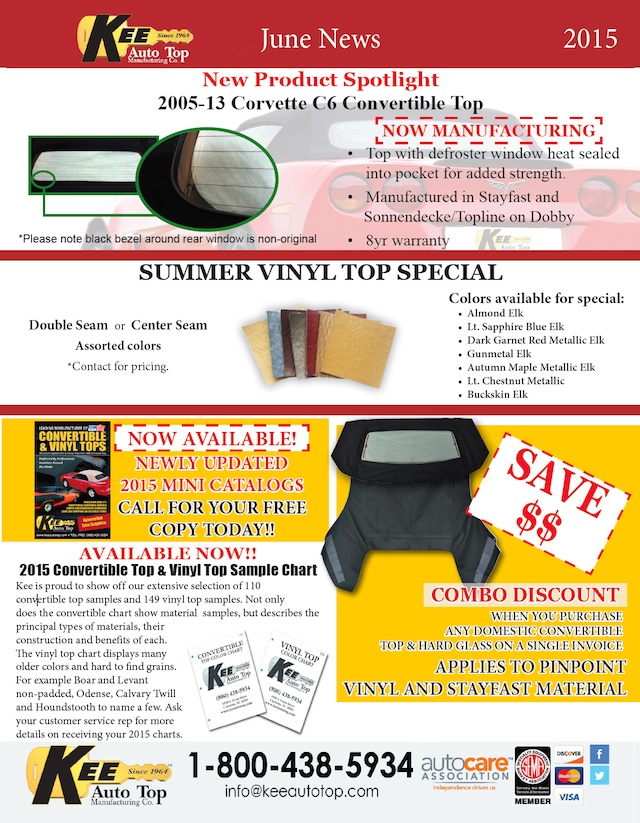 If you haven't already, make sure to follow Kee Auto Top on Facebook and Twitter — where you can learn more about the company, it's fantastic products and stay on top of all their latest sales and promotions.
For additional information on Kee Auto Top's products, visit KeeAutoTop.com or give them a call at (800) 241-7046 or (800) 438-5934.