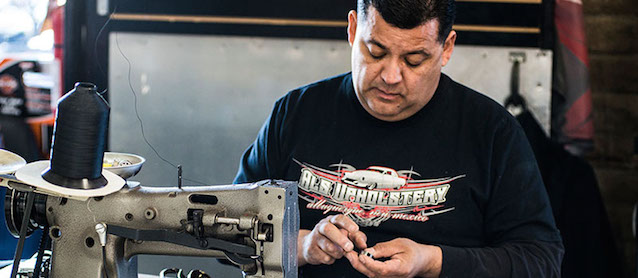 If you enjoy learning about other auto upholsterers and their shops as much as we do, then you definitely need to watch this video profile of Al's Upholstery in Albuquerque, New Mexico.
The touching seven-minute clip tells the story of Al Duarte, who immigrated from Mexico to the United States at the age of 15 and quickly took up a job as a helper at Dave's Auto Upholstery in Albuquerque. There, he dedicated himself to learning all he could about the craft and building a new life for himself.
Eventually, Al opened his own auto upholstery business. However, it didn't come easy. He invested lots of blood, sweat and tears, and hustled hard — at different times working out of a trailer park, shed and house garage before saving enough money to finally open a retail front.
Looking back at the experience, Al says the hard work was definitely worth it.
"I'm happy today that I went for it. That I did it. It was very scary at the beginning. You just don't want to fail. Therefore, we worked very hard. And the lesson is if there's something worth pursuing, something that you really love…that you should go for it," Al said.
Today, he and his son Adam run Al's Upholstery — a successful auto upholstery business with a great reputation for quality work and customer satisfaction. Best of all, Al still really loves what he does.
"I feel that I was meant to do upholstery," Al said. "I love what I do. I love working with my hands. I love being creative. I hope to grow old and still do what I love."
Indeed, Al's story and passion for the craft is inspiring. Watch the full video profile below:
To learn more about Al's Upholstery, visit AlsUpholsteryNM.com and follow them on Facebook. For more profiles, check out The Hog Ring's "Shop Profiles" section.