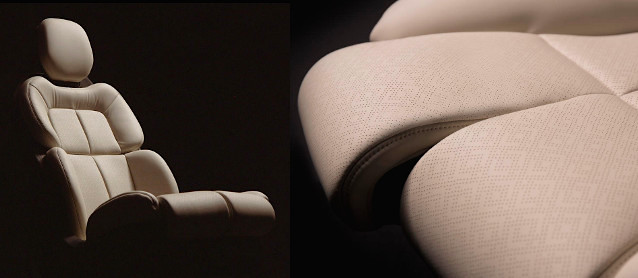 Over the last few decades, we've seen vehicle seats transform from a simple frame / foam / fabric construction to one of the most complex elements in a cabin. In fact, today it's common to see a single seat feature power adjustment, lumbar support, massagers, heaters, coolers, speakers and airbags.
Well, Lincoln Motor Company just made things even more complicated by unveiling a 30-way power seat that literally allows drivers to make adjustments for each butt cheek.
The Lincoln Continental seat, which was unveiled at a press event earlier this month, has been dubbed a "throne" by automotive critics, who love the fact that passengers can adjust the cushions under each leg independently for both length and height.
CNET writes:
Dan Ferretti, Lincoln's global seat technical leader, tells CNET the reason the Continental's seats allow for individual leg articulation is because drivers use their legs differently: "There was a recognition early on that each of your legs is doing something different. One is, for the most part, continuously connected to the accelerator or brake pedal. The other leg is free to move about, sometimes you tuck it up under you, or stretch it out… you want to have different functionality and different support." […]
In its search for the perfect chair, Lincoln designers studied first-class and private jet cabins, and unsurprisingly, the resulting Venetian-leather-clad perches not only feature heating and cooling, but also a rolling-pattern massage to reduce muscle fatigue by keeping leg- and lower-back muscles and blood vessels stimulated. Indeed, Jonathan Line, Lincoln's advanced seat innovation supervisor, says, "We're really taking it from a health and wellness angle… [delivering] a holistic approach for comfort and relaxation – stress relief – to the customer in ways they can't get it today."
Lincoln boasts that the seats themselves have accounted for over 50 disclosures to the United States Patent and Trademark Office, and over 100 more are being disclosed or reviewed. That's largely because their novel modular construction is unlike any seat the company has made before, with greater adjustability and 40 percent less foam by volume than a typical seat.
While the seat is still in the concept phase, CNET reports that's just a technicality and it will debut in Lincoln's forthcoming production sedan. What's more, there's talk that the technology will not be limited to just the driver seat, but equipped in all passenger seats.
Check out the following video to see how the seat works:
To read more about this 30-way power seat, read: "Lincoln Continental's 30-way power seats treat your cheeks individually." For more awesome interior concepts, check out The Hog Ring's "Concepts & Designs" section.