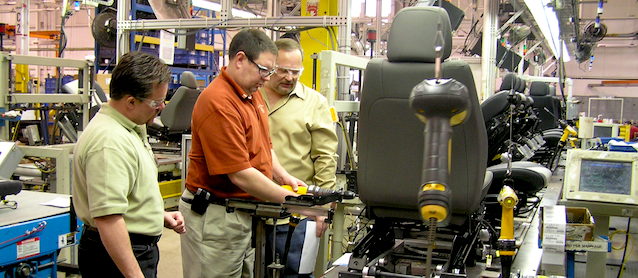 At a time when automakers are increasingly focused on improving the quality of their vehicle interiors, it may come as a surprise to learn that some of the world's largest manufacturers of interior components are heading for the hills. They're selling their assets, merging with competitors and even abandoning the car industry altogether. Meanwhile, a slew of no-name manufacturers are stepping in to fill the void.
In a recent op-ed for AutoBlog, John McElroy, host of the TV program Autoline This Week, explains how this "fundamental shift in the automotive supply chain" is affecting the car industry.
McElroy writes:
Mergers and acquisitions are part of the natural ebb and flow of the automotive business. But this year it's almost as if someone threw a switch. Starting this spring there was an explosive flurry of M&A involving the biggest interior suppliers.
First, Johnson Controls Incorporated, the largest automotive interiors supplier in the world, announced it was selling its interiors business to Yanfeng, a Chinese supplier not well known outside of China. Overnight, Yanfeng became the largest interior supplier in the world.
Hot on the heels of that announcement, Magna, another dominant player in the business, announced it was selling its interiors business to a small, regional Spanish company called Grupo Antolin. All of a sudden Grupo Antolin, a privately held company unfamiliar to most people in the industry, doubled in size.
Shortly afterward Faurecia, the supplier company owned by Peugeot which mostly makes interiors, formed a joint venture with the Chinese automaker Dongfeng. It's unusual for an automaker to form a joint venture with an in-house supplier from another automaker, unless it's the prelude to a technology transfer or a complete sale.
The underlying cause of this shift should leave the industry uneasy. JCI did not pull any punches, declaring it's getting out of the automotive business because the profit margins are some of the lowest in the world of industry and commerce. Instead, JCI wants to invest in businesses with much better margins such as real estate management and industrial refrigerators. It's not a good sign for the automotive industry when one of its biggest, most important suppliers says, "Screw it, let's go somewhere else."
McElroy goes on to suggest that automakers are to blame for the sudden shift — as they "relentlessly beat up their suppliers to lower prices, to the point where the suppliers can't earn a decent return." He also explains why Lear Corporation, another interior supply giant, is taking a completely different approach than its competitors and doubling down.
But how will all this affect the quality of car interiors and the auto upholstery industry that repairs them? Only time will tell.
To read more about the industry shake up, check out "Automotive Interior Suppliers in Total Turmoil."