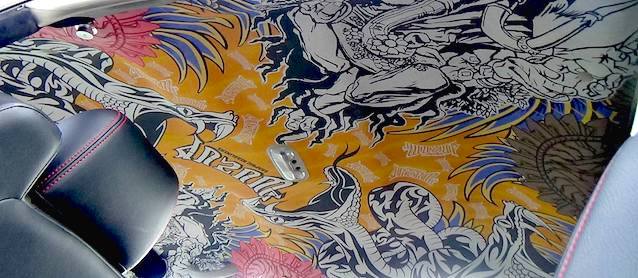 We've seen auto upholsterers do a lot of interesting things with headliners — from embossing logos to using fiber optics to create starlight effects. However, Wuzup Graphic Headliners in Anaheim, California is blazing a new path with interior roof "tattoos."
The Shop, formerly Restyling & Truck Accessories magazine, recently published a profile of owner Tom Heaton and his new service.
Customers submit their own graphics, and Heaton—who has a background in large format offset printing—takes it from there.
"I take the file, print it on headliner suede material, and ship it," he said. "The hardest part for customers is the design aspect. They don't know what they want to do. It's like getting a tattoo—you go with whatever your poison is—but it's not permanent like a tattoo."
Wuzup Graphic Headliners has enjoyed modest success thus far, including three project vehicles headed to the SEMA Show that are lined up for custom headliners.
"We just murdered out a Lexus two weeks ago and it turned out so awesome," Heaton said. "For the headliner, we added the Lexus 'L' logo, embossed it, and the owner used black wood paneling for the Lexus graphics. He ended up taking second place at a car show among 126 vehicles."
"These car enthusiasts get so excited about the custom headliners that I can't help but get excited about it."
The following video shows a few examples of what Wuzup can do:
Wuzup is a one-man shop that sells custom printed headliner fabric direct to customers, who either install it themselves or hire a professional auto upholsterer to do the work. Of course, Wuzup will take orders from auto upholstery shops too, though it's not clear if businesses receive a discount.
Granted, headliner tattoos aren't for everyone. But for some people, especially young enthusiasts who own show trucks and tuners, it might be a good fit. If you cater to such customers, it's worth reaching out to Wuzup and forging a relationship.
To learn more about this new offering, read The Shop's article: "Interior Roof Tattoos Hit Restyling Market." Also, check out WuzupHeadliners.com for service and pricing information.