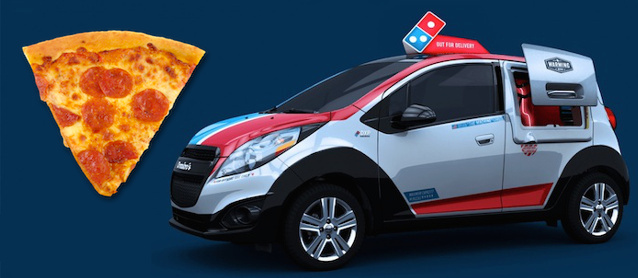 I know this going to sound super weird, but Chevrolet, Roush Enterprises and Domino's Pizza recently teamed up to create the ultimate delivery car, and the interior sounds pretty cool.
The "Domino's Innovative DXP," which is based on the popular Chevy Spark, is the "first purpose-built vehicle aimed at revolutionizing pizza delivery," according to Russell Weiner, president of Domino's.
To get the job done, the DXP sports loads of unique interior features. Chevy took out all the passenger seats, so the car can hold up to 80 pies at a time. It also trimmed the entire cabin in "non-slip, easy-to-clean material." Forget cup holders, the DXP sports compartments for napkins, salads, chicken wings, sauces and 2-liter bottles of soda. What's more, it comes equipped with an illuminated warming oven that's accessible from the outside — so no one will ever again receive a cold pie.
Below is a rendering of what the interior looks like: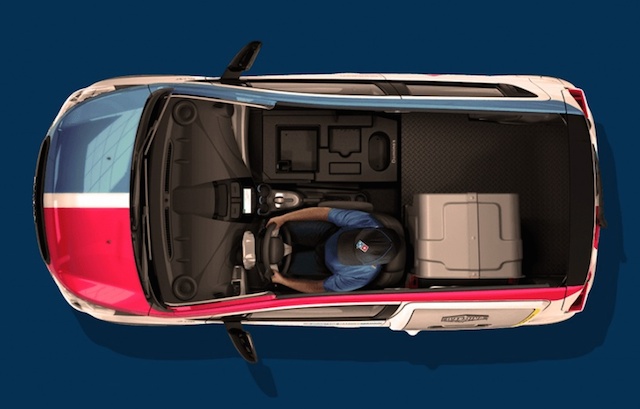 This is no joke. By the end of the year, Domino's will have rolled out about 100 DXP vehicles in 25 U.S. markets, including Boston, Dallas, Detroit, San Diego and Seattle.
"This innovation allows drivers to do their jobs with greater ease and efficiency, and demonstrates that Domino's is absolutely fanatical about making perfect deliveries," explains Weiner.
Impressive, for sure. But I'm not so sure about "fanatical." We'll save that descriptor for when Domino's installs a brick oven in a Camaro and bakes me a pie in my driveway.
To read more weird stories, check out The Hog Ring's "Odd News" section.