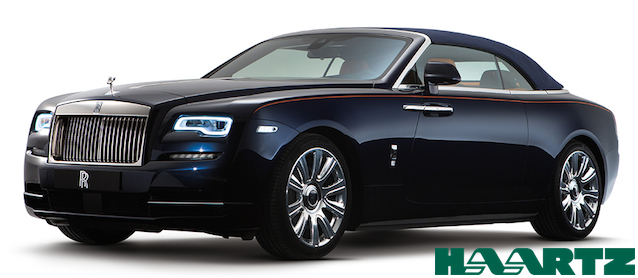 The 2016 Rolls-Royce Dawn made its North American debut at last week's Los Angeles Auto Show, where critics praised it for being the world's quietest convertible vehicle — thanks, in large part, to its Haartz soft-top.
The all-new Dawn is topped in Haartz Corporation's Twillfast CR fabric, a triple-layer material that features an acrylic twill weave facing, crease-resistant butyl rubber inner-layer and polyester dobby backing.
What that means is Twillfast CR is weather proof, manufactured for maximum acoustic quality and doesn't crease when folded. Of course, it's also gorgeous to the touch and available in a range of colors — just what you'd expect in a super luxury drop-top.
"Our line-up of material is well-suited for premium vehicle applications as they are acoustically enhanced and do not crease when stowed for extended periods of time, maintaining their original texture," explained Matt Williams, director of business development for Haartz. "We also offer an extended line of colors, which truly aids owner's ability to personalize their vehicle."
Those colors include black, blue, brown, silver, dark green, red, beige and more. The fabric and color options were chosen in collaboration between Rolls-Royce Motor Cars and Haartz Corporation.
"We worked in conjunction with engineers and designers to ensure the best material was chosen for the Dawn, helping to enhance the open-air driving experience – top up or down," said Williams.
Check out this video from the 2015 Frankfurt Auto Show to see the Dawn's top in action:
Also featured at the 2015 LA Auto Show were the Range Rover Evoque and Fiat 124 Spider, as well as the Volkswagen Beetle — all featuring soft top fabric manufactured by Haartz.
To learn more about Haartz Corporation, visit Haartz.com.