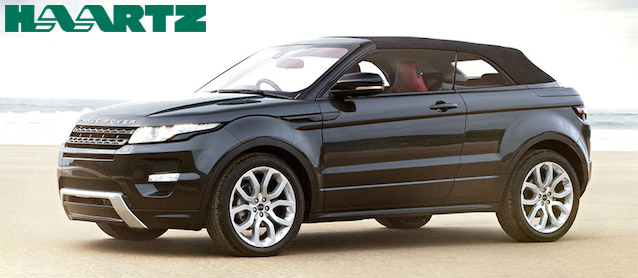 If you're planning to attend the 2015 Los Angeles Auto Show this weekend, make sure to stop by the Land Rover booth to see the luxury automaker's first-ever convertible SUV, the 2016 Range Rover Evoque Dynamic — which features a soft top made from fabric by Haartz Corporation.
The two-door SUV is a head-turner that picks up where the Nissan Murano CrossCabriolet left off. The goal being to forge a new segment of vehicle, the premium drop-top SUV.
To that end, the Evoque Dynamic sports a first-rate soft top manufactured from Sonnenland A5B/DS fabric by Haartz. It's a high-performance, acoustically enhanced three-ply topping with acrylic twill weave facing, rubber inner-layer and polyester dobby backing. Other luxury vehicles that have convertible tops made from Sonnenland A5B/DS fabric include the Bentley GTO, Audi R8 and Porsche Boxster.
Haartz, of course, is excited to see it's fabric top the industry's first premium convertible SUV.
"It's great to see companies like Land Rover expanding their product line-up to offer open air vehicles for people who might not want to drive a car, but rather are interested in small SUV or CUV," said Matt Williams, director of business development for the Haartz Corporation.
To learn more about the Evoque Dynamic, check out the following interview conducted by Car Advice on the sidelines of the 2015 LA Auto Show with Gerry McGovern, design director at Land Rover.
Also making its debut at the LA Auto Show this weekend is the 2017 Fiat 124 Spider, which features a soft top manufactured from Haartz's Stayfast C fabric.
Stayfast C, which can also be found on the Mazda Miata and Nissan 370Z, is a fabric laminate material with an acrylic square weave facing, rubber inner-layer and filament polyester backing.
Car Advice also interviewed Fiat designer Felix Kilbertus at the show:
Of course, other vehicles topped by Haartz — including the Volkswagen Beetle Denim — will also be on display. Catch them all!
The 2015 LA Auto Show, held at the Los Angeles Convention Center, is open to the public November 20-29. Visit LAAutoShow.com for details. To learn more about Haartz Corporation, visit Haartz.com.