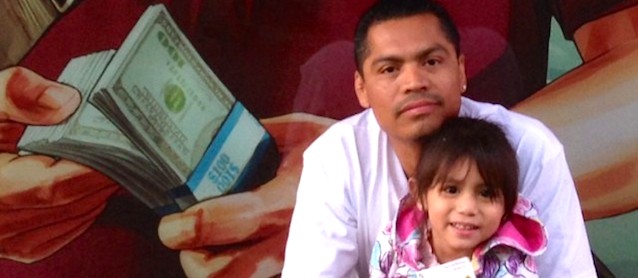 The third and final installment of our interview series with Ish Jimenez, master trimmer and former star of MTV's hit show "Pimp My Ride," is the most personal.
Ish opens up about why he left West Coast Customs to launch his own shop, Royal Auto Designs. He also shares his thoughts on the current state of the auto upholstery industry — which he says isn't dying, but "moving in slow motion."
Most intriguing, however, are his thoughts on success, and how his understanding of it has changed since "Pimp My Ride" first aired more than a decade ago. While he was once enamored with fame, today he's more focused on doing quality work, leaving a positive impact on the industry that gave him a second chance, and balancing it all while raising a family.
What follows is a transcript of our conversation.
You've been working in auto upholstery since the age of 12. During that time, you completed a lot of custom interiors. Which project is your favorite?
I would say the last interior that I did for West Coast — that was the Maybach Landaulet. Those cars, they're like super expensive, like over a million dollars.
The car, it was a regular Maybach 62. … It wasn't a Landaulet. We cut the car, we made it convertible. … I re-did the whole interior in all white leather. That was a big accomplishment for me. Like I say, when people approach me and say, "Ish, you're the best." "No, man. I'm just lucky." I'm blessed because I get to lay my hands on a car that people will only see on TV or in magazines. I get to lay my hands on those cars on a daily basis.
Did you have to make a convertible top for the Maybach?
Yeah. We made the convertible top and headliner. [It was] some work, [but] that's satisfaction to me…like a big paycheck.
When you're breaking your head doing things, you get to the point that you regret what you're doing. Then, when you see the final product, you ask yourself, "Man, I did that? " Yes, I did. Like a paycheck, there's satisfaction.
You've done a lot of interior jobs for big-name celebrities. Who did you like working with most?
The one who I really liked the way he approached me was Mark Wahlberg. I'm a big fan of Mark Walhberg and his movies. … We did an Escalade for him. When I saw him, like, "Oh shit, Mark Wahlberg! What's up Mark Wahlberg? I always watch your movies." He said, "Man, I always watch your show, and you make me laugh!"
https://www.youtube.com/watch?v=fNPWCOtdRTI
I felt he was happy to see me. I was happy to see him, that's a big movie star. People like him come up to me and say, "Damn, man. You're a funny motherfucker. You always make me laugh." Like I said, this is satisfaction that is going to stick with me for the rest of my life. That's when, I said, "Man, I'm the luckiest upholstery guy in America."
You've worked on all kinds of cars, from A-Z. What do you drive, and what have you done to the interior?
You know what? Right now, I'm putting a car together for myself. But 10 years ago, I stopped fixing cars for myself because I never had time to fix them.
I love low riders, I grew up in the low rider city. My last car that I fixed was a '96 Cadillac, that was my low rider. I sold it, then I got me an '87 Monte Carlo Super Sport. But for the last 10 years, I was buying new cars and all I did was put on some rims.
Now that I'm on my own and I got time to do my own thing, I'm working on a '69 Chevy Caprice, it's already painted. I'm working on the interior. I'm doing it really simple. I told my oldest kid who's worked with me: "I'm finally going to be driving something that I created, that I designed. Something that I can show people what I do for a living."
You said the interior will be simple. How do you mean?
It's going to be black leather with black inserts, Alcantara suede. It's going to be really simple, but it's going to be catchy. I painted the car candy tangerine, I got 22s in the back, 20s on the front, air suspension. It's going to be all black with orange double stitch and Felix the Cat in orange.
Is that how you describe your style, simple?
Simple. I'm a simple guy, I don't like to be complicated. … I'm not into graphics, and this and that. I like it, I love it, but it's not my style.
I got a couple of Harley Davidsons, both of them are black. All chromed out to the fullest. People ask me, "Why didn't you did this?" "Why didn't you do that?" I say, "No, man. I like it, but not my style." I like to see that on other people's bikes, not on my bikes.
You've accomplished a lot in your career. Looking back, is there one moment in particular that sticks out to you as a game-changer? That moment when you felt like you made it?
Being at West Coast Customs was the best thing I ever did. When you get to a point where people think you're the best, and where people show respect to you because who you are, I think that's a big compliment. I can name a few people that I really have respect for in the car industry, and that's because I know they're legit. Some of my favorites, besides Ryan [Friedlinghaus, owner of West Coast Customs], are George Barris and Chip Foose. I know they're people who were laying hands on cars before they made it.
Honestly, I don't think I have accomplished what I really want. It's hard to have the balance between [work and family]. That was one of the reasons I left West Coast. It was so much time-consuming that you don't get to enjoy what you have, what you accomplished. I don't know if I'm getting old or I appreciate life more than ever, but to me, when you have what you're looking for and family on your side, I think that is priceless. That's one thing, to be honest with you, that I haven't accomplished.
Family is the thing you're still working towards?
Yeah. I got four kids altogether. My three kids from my first marriage, they grew up without me because I was always busy. I thought I was supplying money, buying nice things for them, whatever they needed, but that's not [enough]. Then, I got divorced.
I got married with another woman. I have a little girl now, and that's one of the biggest reasons I left West Coast. I said, "Man, I'm running in the same direction." I don't want my baby to grow up without me. That's one thing that I haven't accomplished, work and family balance. The day that I can balance work, that I'm financially secure, and my family, I can say I finally found what I was looking for.
Do you think that opening the new shop will help you achieve that?
I think so. … Now, I got control of my life. Like I said, money is not good yet, but I feel like I'm going in the right direction. I can manage my shop and my personal life.
Some veteran upholsterers have described our industry as a dying trade because of the lack of young trimmers learning the craft. What would you say to them?
You know what? It's up to us, people like you, who put all this [The Hog Ring] together. It's encouraging a lot of people. On Friday or Saturday, my kid sent me a picture. … I guess he found you guys on Instagram and he screenshot it and sent it to me, like, "Hey, look Dad!" I replied, "Guess what? I'm going to have an interview with them on Monday or Tuesday?" He said, "Oh, shit!"
I don't think it's dying, the industry, it's not dying, but it's moving in slow motion. To me, upholstery is like makeup for women. You can have a nice paint job, you can have nice rims, but if you don't have nice upholstery in your car, the car is not complete. That's what I try to do is make young people understand.
Not right now, but down the road…I'm going to try to partner up with a couple of other people so I can do free seminars for kids. Bring your own car, wrap your own dashboard, do your own carpet. Just buy the material. I supply the glue, I supply the air, I supply the shop to encourage young people to do their own thing. I hope I can come across a few people that have the same vision that I have.
What's the best advice that you'd give to a rookie just starting out in the craft of auto upholstery?
Never give up! … Sometimes you're going to get frustrated. I've gone through that a few times, [even] to the point I said: "Shit, man. I shouldn't be doing this, I should be doing something else." Then, when I accomplish what I'm doing, it gives me satisfaction. Bottom line, never give up. If this is what you want to do, just put your heart and soul [into it]. This is a good trade, trust me.
What does the future hold for Ish Jimenez?
I just want to be happy. To do what I'm doing, try to establish my own shop, my own name. Honestly, I don't want to be [like] West Coast. A few people have asked me that question, like, "You want to be like West Coast, have a shop like West Coast?" Honestly, no. I want to have a peaceful life. I want to be one of those guys that work, do the best I can. Work five days a week, and as long as my bills are paid and I have extra time to spend with my family, that's what I want.
I chased a dream. I won't say that I caught the dream. Literally, the dream came to me. "Pimp My Ride" and TLC and all the shows, that was good. It gave my life a chance to be in another position. Now, people who drive Lambos, Mercedes, they have no doubt I can do the job. They say, "Oh, shit! I saw this guy breaking Bentleys, Ferraris, Lambos on TV. Like shit, here, do my shit." I got the trust with people. So now what I really want is to establish my shop, have happy customers coming back and forth, and make decent money.
Most of all, have time for myself to enjoy with my family. As long as I have my bills paid, my mortgage paid, and the things that I need, I'll call it even.
Thanks Ish. I really appreciate you taking the time to, talk with The Hog Ring today.
My pleasure, brother.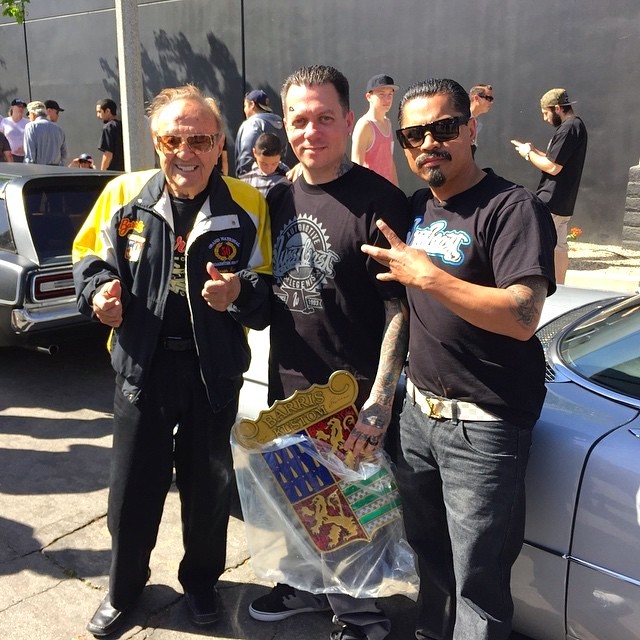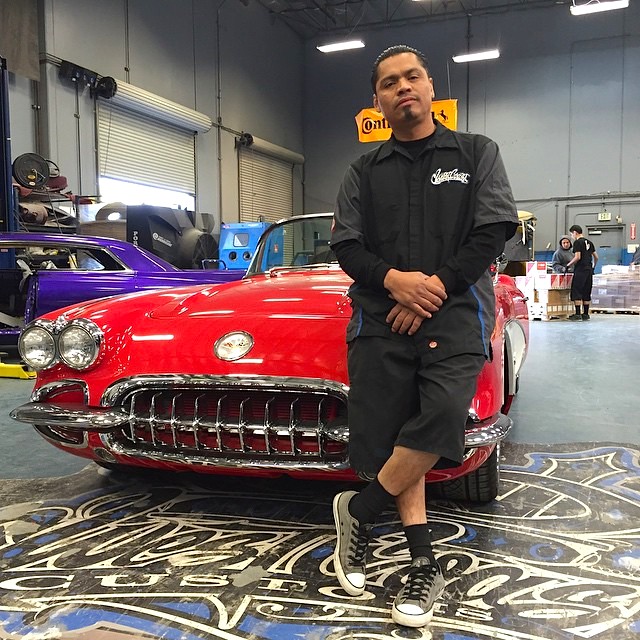 Despite his celebrity, Ish remains a down-to-earth guy with a passion for cars and his craft. Sure, he's seen and achieved a lot — much more than many of us could ever dream. But the way Ish tells it, he's nowhere near finished. In fact, he's just getting started.
Check out Ish's new shop Royal Auto Designs online at RoyalAutoDesigns.com, and follow them on Instagram.
Special thanks to Anthony Salazar of Top Stitch Upholstery in South El Monte, California, for setting up this interview between The Hog Ring and Ish Jimenez.