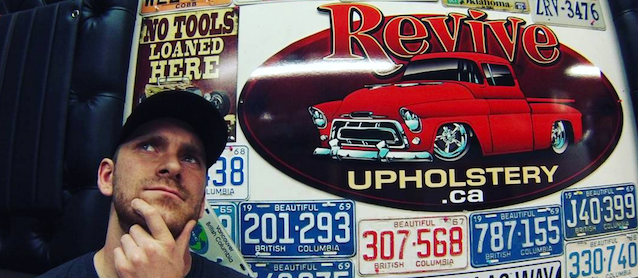 It's about time that an auto upholstery shop got its own reality television show — right?
Tired of waiting for it to happen, Carl Austman of Revive Upholstery in Langley, British Columbia decided to launch his own program in the form of a web series, and it looks spectacular!
"Stitched," which is set to debut before the new year, will be broadcast on YouTube and focus on Carl's day-to-day running an auto upholstery shop in Canada.
We found out about the project after Carl shared the following "Season 1 Promo" video on Instagram.
Excited about the show, we reached out to Carl to find out more about him, his shop and plans for the web series.
Below is a short transcript our conversation:
Tell us a little bit about your background in auto upholstery. How did you learn the craft? How long have you been doing it for? 
I started around 2004 working on my own truck and fell in love with it. After about a year and a half hating my job, I did some research and found a program at my local college that offered automotive upholstery. I have been doing it ever since 2006. 
How long has Revive Upholstery been in business? And what type of work does it specialize in?
It's been open for around 3 years. I did mobile for a year and a bit and then I found the shop you see in the video. It's mostly just me with some help from my family and friends when it's needed. Most of my work is some custom upholstery and some original upholstery. Repairs, boats and convertible tops too.
We're intrigued by "Stitched," the web series that you're launching. Can you tell us about the inspiration for the show?
My inspiration for the show came by watching shows on YouTube itself and the content they are producing about engines, stereos, drag racing etc. … I did some research and didn't find the right content showcasing upholstery in a way that's entertaining.
What will the format of the show be like? Is it all about Revive Upholstery? Will you be doing one car or project per episode?
The format will mostly focus on the realities of running an upholstery shop, showcasing full car interiors and some specific things like carpets, doors, trunks, convertible tops, seat repairs, headliner repairs — things of that nature. It will also touch on other information about tools, supplies, tips and lots more. I guess you'll have to find out what goes on in future episodes if you subscribe!
There are already so many car shows on TV and the web. What makes "Stitched" different? And why is it important?
Although there are a lot of car shows, what makes this different is I want to bring my unique and creative process online. It's important because its specific to the automotive upholstery craft and that's what is missing online when it comes to content and what people want to watch.
What's your overall goal with "Stitched"? What do you hope the show achieves?
My goal is to produce better content than what is online that focuses on the interiors of cars. I want the show to allow people to be interested in either customizing their own car or being inspired to do something for their own project.
The promo video looks like it was professionally shot. Are you working with a production team?
Thank you very much, but it is just me filming. I pitched the idea to my awesome cousin Michael Fournier, talked for a bit, and he was happy to help edit the footage into what you see today.
Is the goal to get this web series picked up for TV?
If that ends up happening it would be amazing, but the goal is to just get content out and have it entertaining for those who watch YouTube content on cars or just happened to stumble upon it while browsing the web. 
When can we expect the first episode? And how often will you be publishing new episodes?
Before Christmas for sure, it depends on the time my cousin and I have. I am currently filming and he is editing one as this comes out so at least twice a month. As time goes on, the process will be easier. I eventually want to get it to once or twice a week
Is there anything else you'd like future viewers to know about you, your shop or "Stitched"?
This is something I'm very passionate about, and I'm excited to showcase that through the web series. I don't want to give away too much about the series, but please do subscribe or at least share it.
Learn More: To see Carl's work, visit Revive Upholstery's website, Facebook and Instagram. Also, please subscribe to his YouTube channel, that way you're alerted when new episodes of "Stitched" are released.