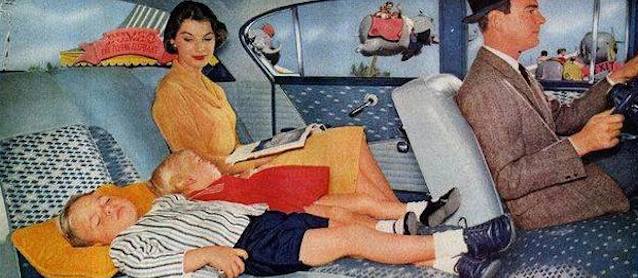 A lot is being made of how autonomous technology will change car interiors, with some automakers saying that cabins could be transformed into mobile bedrooms or living rooms, where passengers can relax and play games while computers do all the driving.
But that's not an entirely new concept. Long before automakers began experimenting with autonomous cars, Nash had already developed the first bedroom on wheels.
The Nash '56, dubbed "the world's finest travel car," featured a front passenger seat that reclined into the back seat to create a bed large enough to accommodate two children, while still leaving room for their parents. The cabin also came equipped with a game-table rear armrest.
An American Motors advertisement from the 1950's explains:
We didn't stop with giving Nash the swiftest, boldest, speed lines and the hottest new V-8. We added a "baker's dozen" of exclusive benefits for children's comfort and parents' peace of mind.
We put the biggest, safest room on the road into the world's strongest, safest construction…an instant "nap couch" nearly 3 feet wide for two youngsters, plus "sit-up" room for parents…a "game table" rear arm rest…a new kind of low-cost air conditioning.
We built the broadest windshield and rear window for wide young eyes…developed a whole new springing system to banish "back-seat bounce."
Bring the family and travel-test this new Nash. And try to match these wonderful travel features in any other car!
See the full advertisement below: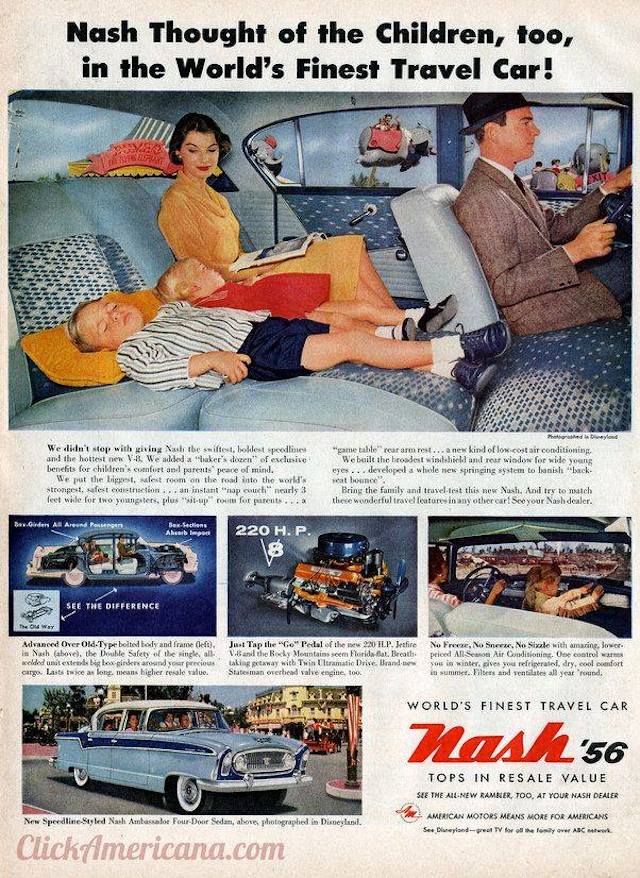 Of course, today it seems ridiculous that any automaker would boast of reclining seats, let alone use the feature as a major selling point. In the 1950's, however, it truly was a luxury.
Check out The Hog Ring's "Industry History" section for more blasts from the past.