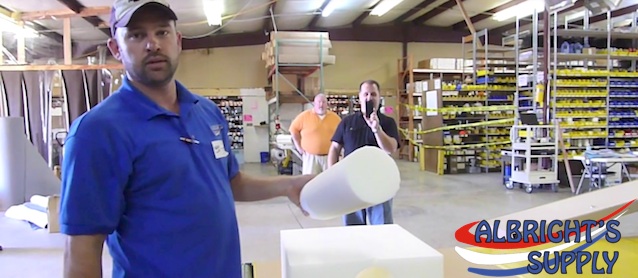 Did you know that Albright's Supply, one of the largest auto and marine upholstery suppliers in the U.S., carries foam rubber in a range of thickness and density, and even offers a FREE custom foam-cutting service?
That's right! In addition to selling cut foam, sew foam, rolled foam and slab foam, Albright's Supply uses three extraordinary machines to custom shape that foam for you. The machines cut horizontally, vertically and can even make custom shapes and curves. Simply order the foam you need, tell them the dimensions of your cushion (or send them a paper template) and they'll cut it for you at no extra charge.
In 2014, we visited Albright's massive warehouse in Corinth, Mississippi, where team member Chris Brooks demonstrated how the machines work. They were quick, precise and all-around impressive. See for yourself:
Surprised by the free service? Don't be. Albright's Supply is renowned throughout the upholstery industry for providing outstanding value and superior customer service.
Family owned and operated since 1947, Albright's Supply has its feet planted firmly in our craft. Chris Albright, who runs the company, is a second-generation trimmer who grew up cutting, sewing and installing seat covers just like us.
To learn more about Albright's Supply and browse their online inventory, visit AlbrightsSupply.com. To set up a business account today, call: (662) 287-1451.