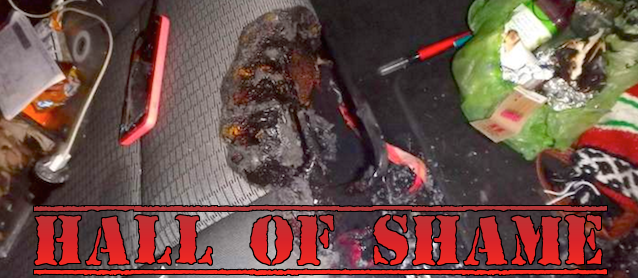 There's a pyromaniac on the loose in the city of Portsmouth, New Hampshire, and he's exclusively targeting car interiors. The culprit, who earned a spot in our "Hall of Shame," has so far broken into nine vehicles and lit six on fire.
"I think the count is up to nine car breaks…so nine vehicles had been gone through, where items had been taken or rummaged (through)," Portsmouth Police Lt. Darrin Sargent told WBZ-TV. "Six of which a fire was started or attempted, so that's insult to injury I guess you could say."
According to investigators, most of the cars targeted were unlocked, which granted the culprit easy access to valuables and the ability to set the interiors on fire without causing too much noise.
One woman, Cathy Youngs, told local news site Sea Coast Online that she was awoken on Saturday by the sound of a "boom" — apparently her roommate's PT Cruiser was targeted, and the heat from the fire caused its windows to explode.
"It was like going through the war zone of Beirut," she said. "It was a really scary thing."
Police, firefighters and even an ambulance responded to the blaze, Youngs said. They doused the car with water and foam, and used crowbars to pry open its doors, trunk and hood so that the fire wouldn't reach the gas tank.
"The only thing left was four tires and a metal frame," Youngs said. "The car is totaled."
The following video report by WBZ-TV provides more details on the damaged cars:
Thus far, police have no leads and are asking the public to remain vigilant and report any suspected vehicle break-ins. Any tip given to Portsmouth police that results in an arrest is eligible for a $1,000 reward.
Whoever is responsible, I sure hope it's not a disgruntled auto upholstery apprentice.