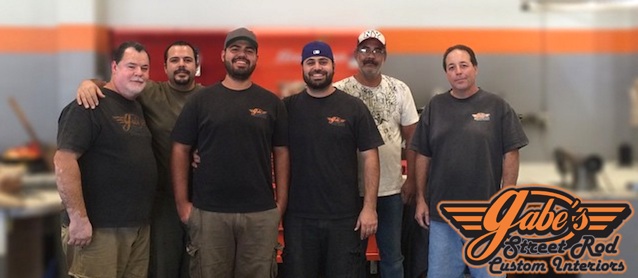 If you have a soft spot for mean machines then follow Gabe's Street Rod Custom Interiors on Instagram, where you'll see hundreds of gorgeous cabins designed, fabricated and upholstered by celebrity trimmer Gabriel Lopez and his talented team.
No doubt, car enthusiasts recognize the name. That's because Gabe starred on the hit reality television show "American Hot Rod," which aired on The Learning Channel and Discovery Channel from 2004 to 2008. On the show, Gabe served as the exclusive upholsterer to host and legendary hot rod designer Boyd Coddington.
Gabe has been involved in the auto upholstery industry since his elementary school days in Mexico, where he worked in his brother-in-law's shop. He quickly developed a passion for the craft and honed his skills at a number of small garages. He even opened his first auto upholstery business at the young age of 16.
In 1994, he founded Gabe's Street Rod Custom Interiors in Bloomington, California, where he quickly made strides within the car collector community, which lauded his superb designs and superior craftsmanship. In fact, his client list reads like a "who's who" list of the auto industry — including Chip Foose, So-Cal Speed Shop and countless independent builders and enthusiasts.
Gabe's Street Rod Custom Interiors, which relocated to San Bernardino in 2007, is now one of the most highly sought after shops in the industry. It's fame grows with every new project the team completes and award they win — which now include four America's Most Beautiful Roadster awards and a Ridler.
Browse through Gabe's Street Rod Custom Interiors photo album on Instagram to see for yourself:
To learn more about Gabe's Street Rod Custom Interiors, also visit their website and Facebook page.