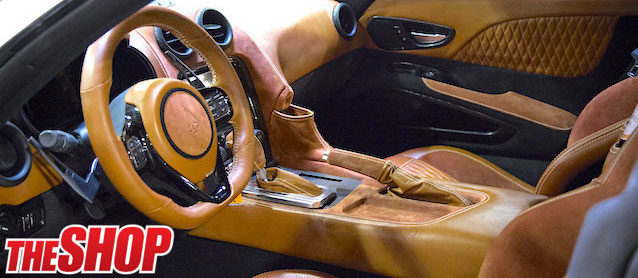 Pick up a copy of the May 2016 issue of The Shop magazine to read our exclusive interview with Dan Miller, the master trimmer behind the VLF Force 1's jaw-dropping interior.
The three-page spread titled "It's the Operator" highlights Dan's skills behind the sewing machine and explains how he got the opportunity to collaborate with world-renowned automotive designer Henrik Fisker, former General Motors Vice Chairman Bob Lutz, and manufacturer Gilbert Villarreal on America's newest supercar. In the interview, Dan even gives a nod to THR sponsor NC Carpet Binding & Equipment.
Our favorite part of the interview is when Dan explains Gilbert's surprise at what he was able to accomplish with a single-needle sewing machine:
The funny thing was when I got there, Gilbert, one of the owners, the billionaire guy, his brother was there. He's looking at my machine … He sees this single-needle machine show up, and they thought I was going to buy a double needle, a single needle, an overlock, and all this other shit. They were kind of hesitant when I got there, but when I finished the seats, even Gilbert came out. He goes, "I'm going to be totally honest with you. I thought you were fuckin' crazy because you showed up with a machine that was $1,800. We expected you to spend 10 grand. You spent $1,800. These look fuckin' great." I said, "It's not just the machine. Trust me. It's the operator."
To read the full interview, download your free copy of The Shop magazine by clicking here and skip to page 46.