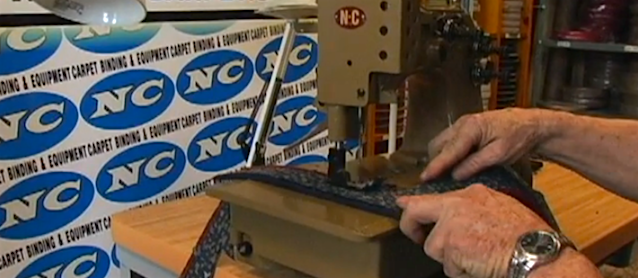 Most auto upholstery shops use traditional industrial sewing machines to bind vehicle carpets. However, there are dedicated machines – called binders and sergers – that allow trimmers to do the same job quicker and easier.
Interested in learning more about these machines, we reached out to Mal Maher, CEO of NC Carpet Binding & Equipment, to get the scoop and recommendations.
For nearly 70 years, NC Carpet Binding & Equipment has been an industry-leading manufacturer of industrial sewing machines for upholstery, carpet, netting turf and just about anything else you can sew. In fact, NC pioneered much of the technology that has become standard in the industry today — including the first bobbin-less, zigzag, double-chain lock-stitch machine to bind carpets in one pass, as well as the first bobbin-less portable carpet binder and portable serger.
So who better to consult with than Mal about carpet binders and sergers? Below is a transcript of our conversation:
What's the difference between a carpet binder and carpet serger?
A carpet-binding machine is designed to quickly and easily sew a tape border around the perimeter of a carpet or floor mat.
A serger is also used to apply a border to the edge of a carper or floor mat. However, instead of applying tape, it wraps yarn around the perimeter. This provides a more upscale look and is the method of choice for most OEMs and high-end automat companies.
What are some advantages of using binders or sergers over traditional sewing machines to finish a carpet's edges?
We've all heard the expression "use the right tool for the job." Binders and sergers are exactly that. They're custom-built, industrial-strength machines engineered to apply tape and yarn borders to carpet. By employing these machines you'll work faster, easier, and with more precision. That's why companies like General Motors and Lloyd Mats use our machines.
Which carpet-binding machine do you recommend for auto upholstery?
Auto upholstery shops should check out the NC Model BAC Binder, which is one of our ultimate cornering units. Like a traditional machine, the BAC is a walking-foot, so your maneuverability is the same. However, ours is significantly more industrial, and best yet it's Bobbinless. The BAC replaces the small bobbin with a 6,000-yard spool of thread, allowing you to sew for thousands of feet without changing thread or having to wind bobbins.
Which carpet serger do you recommend for auto upholstery?
Definitely the NC 81200AIR Ultimate Cornering Carpet Serger. It's designed for auto and airline applications and can handle any carpet thickness. Like the BAC Binder, it's engineered with our ultimate cornering technology and allows you to navigate acute angles with considerably more ease. You can also add our tape underlay feature, which eliminates pile from busting through the serging yarn and, in most cases, eliminates the need to bevel.
How much to these machines cost?
While the BAC Binder is $8,000, the 81200AIR Serger runs between $6,250 – $6,500. Our machines are "Made in USA" and built to last a lifetime. We also include training videos with all new machines, provide 24-hour repair service, and 12-month interest free financing. Give us a call at (800) 526-1184 and we'll take care of you.
Check out this testimonial of NC Carpet Binding & Equipment:
To learn more about NC's sewing machines, carpet binders and sergers, visit N-CCarpet.com.