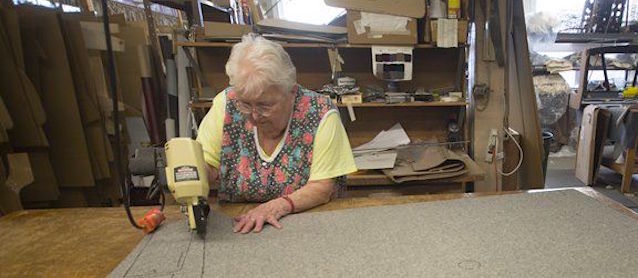 Mary Godin is a pattern cutter at antique auto upholstery manufacturer LeBaron Bonney Company. She's also 82 years old, a great-great grandmother, and has no plans to retire. Intrigued by her spunky personality and passion for the craft, a local newspaper in Massachusetts decided to profile her.
After more than 40 years in auto upholstery, Mary has a lot of insight and experience to share. Below is an excerpt from the article in The Daily News of Newburyport:
Working from a pattern each time, Godin knows in intricate detail the interiors of almost every antique car that could still be on the road built from 1928-54.
"I am simply a cutter," Godin said. "We trace and we cut, and we do the complete car. We start with the headliner and we go to the panels, then we go to the upholstery and we go to the carpets if the car has one. I've cut about every car here. Buicks are hard cars. They take a long time to do because they are so many pieces to that car. They drive us crazy."
Godin works from the patterns and the decades of experience working on her feet that are simply stored in her own head.
"I don't believe in computers," Godin said. "I have it (points to her head). There is a lot that we have to remember about our cars because there is a lot that goes into our cars. You don't learn this job in five minutes. It takes quite a while. If management don't do it right, I am not afraid to tell them. I keep them in line." […]
"I love the young people, they keep me young," Godin said. "I work with a good group and I love listening to them. They are worth coming into work for. I try to be a teacher to people. But we all learn in our own ways. Everyone has their own system of doing things, no matter what you do."
To read Mary's inspiring story in full, check out "They keep me young." Also, the next time you call LeBaron Bonney Company to place an order, make you ask them to say "hello" for you.
[Photo by Jim Vaiknoras]