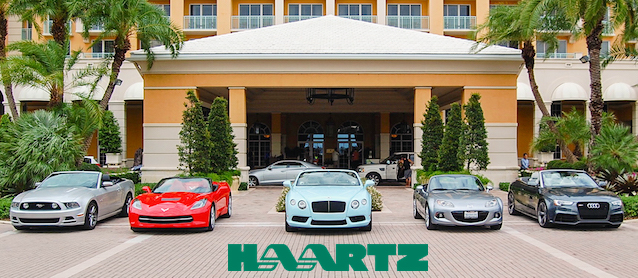 When most people think of Miami, beaches, sunshine and drop tops come to mind. That's why it's so fitting that The Haartz Corporation is sponsoring the sixth annual "Topless in Miami" convertible competition.
The event, organized by the Southern Automotive Media Association (SAMA) and held on June 2, brings together the hottest convertibles for a one-of-a-kind event at the Ritz-Carlton Key Biscayne.
The cars are judged on a long list of criteria — including fit, finish, function, design, acoustics and trunk space. Awards are presented across a number of vehicle segments, ranging from small convertibles to exotics, and even vehicles with panoramic sunroofs. The top honor, "Convertible of the Year," goes to the vehicle deemed best all around.
Considering that Haartz is the world's leading supplier of convertible material, it should come as no surprise to learn that most of the vehicles on show feature their topping. In fact, last year's top winner – 2015 Porsche Boxster GTS – rocks the company's high-performance acoustic topping material.
Of course, Haartz is excited about the partnership. "The past couple years have seen growth in the soft-top convertible market, and the SAMA Topless in Miami event is a great opportunity for both the media and automakers to test our technology and see the vast improvements that have been made in convertible topping material," said Matt Williams, director of business development. "This has been a great relationship with the SAMA and we look forward to supporting them in the future."
For more from the Haartz team, check out this video interview from last year's event:
Want to attend? Check out the event's official website: ToplessInMiami.com. If you go, snap some photos and share them with Haartz on Facebook and Twitter!