Long before the advent of GPS, map racks were the height of in-car global positioning technology. Similar to modern phone mounts, these receptacles were designed to keep road maps within view of drivers while still allowing them to keep their eyes on the road. While most were simple holders forged from plastic or metal, some were a lot more elaborate. For instance, check out this dashboard map rack featured in a 1950 issue of Popular Mechanics.
The rack, once considered a top-of-the-line model, featured a swivel hinge, light bulbs and magnifying glass. Popular Mechanics writes:
Mounted on the dashboard, a plastic-covered map holder provides the driver with a ready reference while driving over strange roads. Two concealed bulbs in the top of the device illuminate the map without glare. The light cord plugs into any cigarette-lighter socket. A sliding plastic legs, mounted on a swivel so it can be used by either the driver or passenger, enlarges any portion of the map, providing a large, clear view of the details. The mounting arms hook into the defroster openings at the base of the windshield.
Below is a copy of the original article, dug up by history blog Modern Mechanix: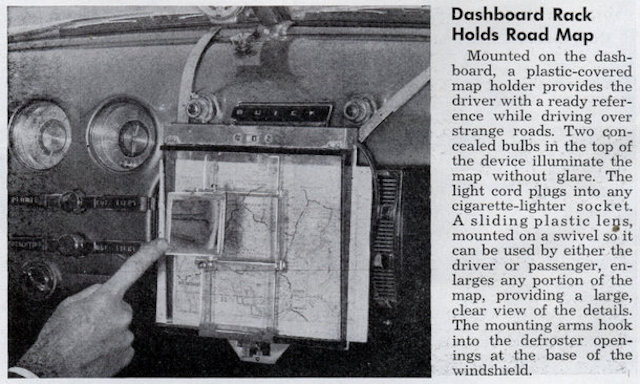 Cabin technology sure has come a long way! I'll never take my GPS for granted again.
For more cool articles about old car interior features, check out The Hog Ring's "Industry History" section.