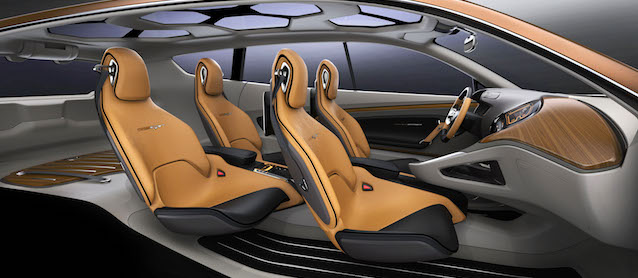 After decades of ignoring vehicle interiors, automakers are locked in a race to see which can invent and patent the ultimate car seat — and they're pulling out all the stops. BBC Autos, which recently profiled the rivalry, says marquees have gone beyond the car seat in search of the greatest "seating experience."
Supreme comfort is the name of the game, and automakers are reinventing the seat to achieve it. In addition to the usual features — including high-grade leather, heaters, coolers, massagers and adjustable bolsters — companies are developing other advanced technologies, such as composite frames, advanced suspension systems, biometric sensors and phone apps that sync with seat computers to automatically make adjustments.
The Bentley Bentayga, for example, features a 22-way adjustable seat equipped with just about every luxury feature you can imagine, including wrap-around headrests and the use of different density foams to increase rigidity in some areas and comfort in others.
"A lot of people take the car seat for granted," Jonathan Line of Ford Motor Company told BBC Autos. "But there's more you can do with seats than just sit in them. We're trying to create a seat that you feel happy to sit in it – that supports and hugs you so that you get a sense of well-being and safety."
"We're trying to create a seating experience," he added. "This is not a gimmick."
Automakers are also preparing for the advent of autonomous vehicles, in which car seats will again need to be reinvented for comfort and safety.
"We'll have to look at how somebody might fit in cars in a different way," said Darren Day of Bentley Motors. "In a lounge on wheels, it'll no longer be necessary to face forward, which will bring its own risks and problems."
"Currently, automobile seats are designed for people who sit facing forward and receive impacts (in accidents) from the front, rear and side," he continued. "But in an autonomous car, they could be laying down … so the way the seat reacts to you would have to be considered in a far different way."
To learn more about the future of car seats, including the different types of technologies that automakers are developing, read the full article on BBC Autos: "In luxury cars, the seat becomes a 'seating experience.'"