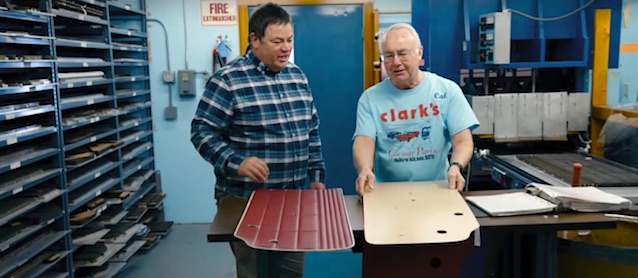 You've seen door panels for classic cars with extravagant patterns that are embossed rather than stitched, but have you ever wondered how they're made? Take a behind-the-scenes look at the process known as dielectric embossing.
In an episode of Velocity's hit TV show "Wheeler Dealers," host Mike Brewer visits Clark's Corvair Parts in Shellburne Falls, Massachusetts, to pick some much needed interior components for a 1963 Corvair he and his partner Edd China are restoring. While there, Cal Clark, co-owner and operator of the company, creates the door panels for Mike's project car while showing him step-by-step how it's done.
The process is really interesting. First, a special cardboard with a vinyl coating is compressed over top a steel-ruled die pattern, cutting the board to the exact dimensions needed. Second, the freshly cut board is covered in vinyl and foam. Third, the covered board is placed in a giant machine called a dielectric embosser, which, through microwaves, melts the foam to bond the vinyl to the board and embosses the desired pattern. Moments later, the finished door panel is removed from the machine looking good as new.
The process is quite impressive and surprisingly fast. It just goes to show what can be done with the appropriate equipment and tools.
To see the finished product and watch the rest of "Wheeler Dealers" series 13, episode 6, click here. The interior portion runs from 18:06 – 21:55.
To learn more about Clark's Corvair Parts, visit Corvair.com or take this video tour of their upholstery shop.