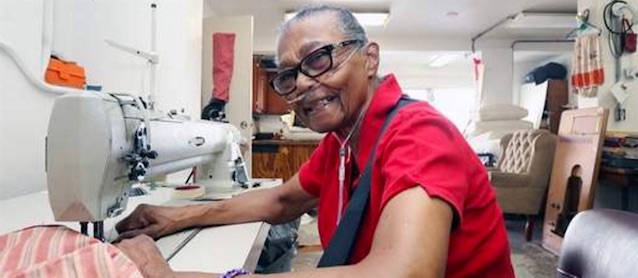 The next time one of your employees or coworkers complains about long work hours, tell him about Barbara Millett — who, at 80 years old, is preparing to reopen her Pembroke, Bermuda, shop: House and Car Upholstery and Your Fashions.
No one in our craft has put in time like Barbara. She began her apprenticeship in 1948 at the age of 12 and has been doing upholstery ever since. That's 68 years of work experience!
In 2013, Barbara was forced to temporarily close her shop due to illness. Today, with the assistance of an oxygen bottle and breathing tubes, she's back on her feet and ready to work.
"I'm so excited at being able to be here, look at the work and make sure the work is done properly," she told The Royal Gazette.
"I won't be so much hands on physically, but I will be there to see that things are done the way I want them to be done."
Barbara plans to spend most of her time supervising, sitting behind a sewing machine and even hand-stitching steering wheels. To assist her with the heavy lifting and push and pull of the craft, she has employed a full-time upholsterer and plans to hire two additional staffers when the shop opens its doors next month.
"I feel there is room here for quality work. I know at the time I closed we were one of the only places that did the antique work," she said.
Before striking out on her own in 1969, Barbara trained with a number of talented upholsterers and honed her craft in several upholstery shops, according to The Royal Gazette. Among the many challenges she faced was not having power tools and overcoming resistance to women learning the craft, she said.
Although we can't say for certain, Barbara may just be the oldest and longest working trimmer in the craft of auto upholstery. You have to respect experience and work ethic like that!
To read the full article, "Millett reopens upholstery business at 80," visit RoyalGazette.com.