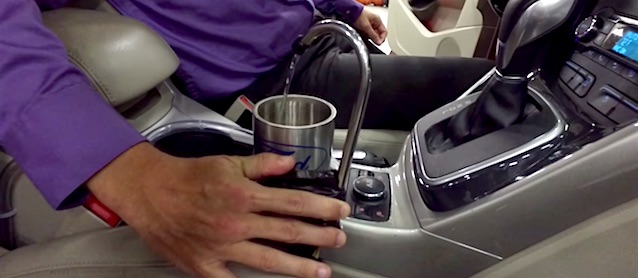 From dashboard map racks to shift knob ashtrays, our "Industry History" section features a lot of quirky interior tech from the early 20th century. However, automakers are still designing bizarre gadgets.
Case in point: Doug Martin, an engineer for Ford Motor Company, recently unveiled On-The-Go-H2O, a system to collect A/C condensation and route it to a console faucet so that drivers and passengers always have access to clean drinking water.
According to Doug and his colleague John Rollinger, the system can produce nearly 2 liters of filtered water per hour, which is more than enough for a driver and three passengers.
The following video explains exactly how On-The-Go-H2O works:
It's a cool invention, but could be made even cooler if Doug and John hook it up to a coffee machine. Imagine having a cup of fresh brewed French vanilla whenever you want. Wouldn't that be great?
Of course, On-The-Go-H2O isn't the first car sink. Remember the 1930s door panel toiletry kit? How about the 1939 Horch 930S, which featured an actual kitchen sink in its front fender?
It's not clear whether or not Ford plans to put On-The-Go-H2O into production. However, it's definitely a feature that could work in the cabins of self-driving cars.