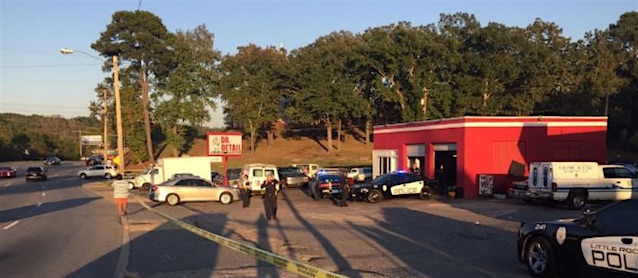 A heated argument at Dr. Detail and Upholstery Repair in Little Rock, Arkansas, ended with one person dead on Monday, and homicide detectives left trying to piece together what exactly happened.
Shop owner Layton Hawkins, 34, allegedly shot Tyler Andrew Terrell, 32, multiple times during an argument in a garage bay, police said. It's not clear what the relationship was between the two men or why they were arguing.
Hawkins surrendered to law enforcement officers when they arrived on the scene, police said.
Witnesses reportedly gave varying accounts about what led to the fatal shooting. Officer Richard Hilgeman, spokesman for the Little Rock Police Department, also said that others may have been involved in the incident.
Hawkins was taken into custody, but released shortly after without any charges, pending further investigation, according to local news reports.
"As of right now we're not listing him as a suspect, but he's a person of interest in this incident," said Hilgeman.
"Right now, it was a disturbance between two individuals, possibly more, but beyond that we don't have anymore."
We will continue to update The Hog Ring community as more details become available. In the meantime, everyone please stay safe.
[Photo by Nexstar Broadcasting, Inc.]