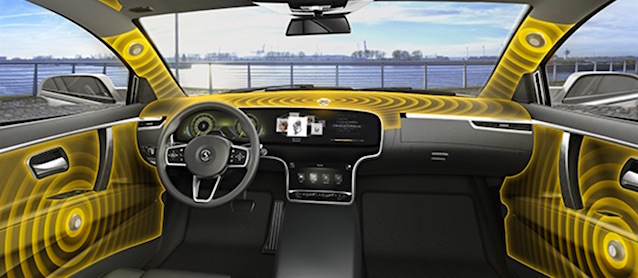 If Continental has its way, vehicles will no longer come equipped with audio speakers. Instead, headliners, door panels and other interior trim will soon be transformed into sounding boards.
The German parts supplier recently debuted its Ac2ated Sound technology, which replaces conventional loudspeakers with actuators hidden behind interior trim. The actuators create sound by vibrating the trim and amplifying it throughout the cabin.
New Atlas explains:
Continental likens the Ac2ated Sound concept to a string instrument. Rather than using a combination of tweeters, midrange speakers and subwoofers to deliver sound, the system relies on a set of compact actuators. They're made up of a magnet and coil, and operate in a very similar way to the coil you'd find on a conventional speaker.
Rather than connecting the actuators to an oscillating membrane, Continental uses them to excite existing pieces of interior trim and, in turn, create sound.
The company says a few different parts of the cabin are suited to different frequencies – the A-pillar lends itself to higher frequencies, door linings have good proportions for creating medium frequencies and bigger areas like the roof lining or parcel shelf could play the role of subwoofer. [read more]
Continental says the benefits are many — notably, lower electricity consumption and reduced vehicle weight, especially for luxury cars that are often equipped with more than 20 speakers. Less speaker grills also make for a cleaner interior design. And, from Continental says, the speaker-less audio system also delivers excellent acoustics and sound quality.
Of course, as trimmers we have a million questions about how this new technology might affect our work. For instance, will it hinder our ability to trim certain interior components in cloth, vinyl or leather? After all, a plastic A-pillar wrapped in Alcantara might not vibrate the same and end up muffling the sound.
I guess we'll just have to wait and see.