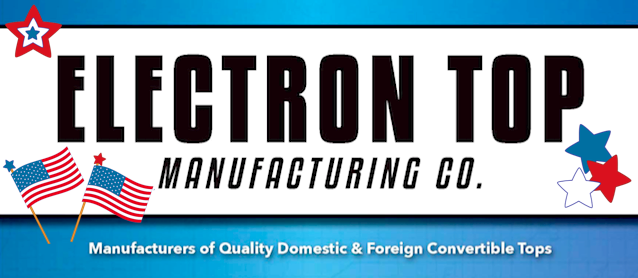 Check out the July 2017 issue of Electron Top's newsletter "Keep in Touch!" for some great Independence Day reading, as well as details on a new pink convertible top!
Electron Tops kicks off the newsletter with an amusing anecdote about the importance of buying goods that are "Made in America." It's followed by a short story about the significance of honoring our veterans.
Of course, Electron Top's quality convertible tops are proudly manufactured in the United States of America. The family owned and operated business is based in Richmond Hill, New York.
That includes their new "Pink Kitty" Sonnend (SG51) Haartz Twillfast RPC convertible top. Yes, it's a pink convertible top — perfect for Pink Cadillacs or whatever else. Tops manufactured in this pink topping are considered custom and made to order. The material is only available in limited supply, so order now before it's too late.
That's not all, for a limited time "Concord Grape Hotrod" (HR44) Haartz Cloth is also back in stock. If you need a sample, contact Electron Top ASAP.
Speaking of unique tops, did you know that Electron Top manufactures gorgeous custom tops?
"Our custom tops can be produced in many unique, less conventional materials or colors; doing our best to accommodate any needs or desires your customer may have in order to make their top unique while maintaining our commitment to … 'Custom Quality Tops at a Fair Price,'" says an Electron Top.
What's more, Electron Top makes and ships custom tops within 5 working days! How's that for customer service?
null
In addition to Electron Top's quality products, we love that the company is a third-generation, family-owned business that puts their hearts and souls into everything they do.
They're honest, fair, loyal, transparent and always put family first — not just their family, but ours as well. In fact, Electron Top has vowed to never sell retail, so as to preserve and strengthen the mom & pop shops that make up the bulk of our industry.
Business values like that are rare in this day and age and deserves our support. Please show your appreciation by giving Electron Top your business. To learn more about Electron Top's quality products or to set up a business account, visit ElectronTop.com or call (800) 221-4476.