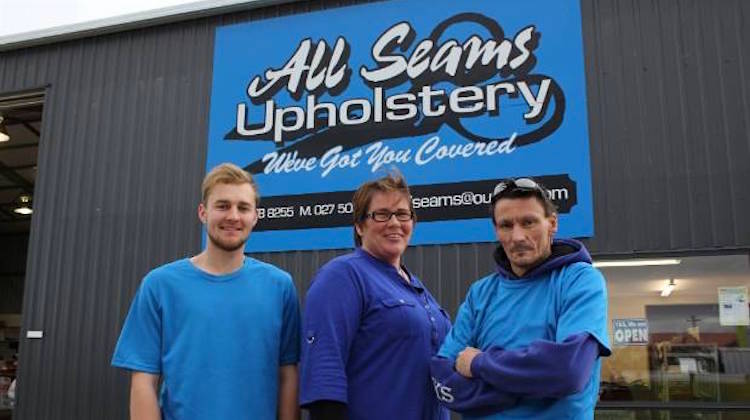 If you could buy your boss' upholstery shop, what's the first thing you would change?
For Maria Elliott, it was the business name — which she changed from Got It Covered to All Seams Upholstery.
Maria was laid off from the Hawera, New Zealand, shop a couple years ago, but had fond memories of working there, sewing everything from car interiors to trailer covers. So when she learned the business was going under, she decided to make an offer.
"I heard that it was on the market and so I was trying to find out what was going on," she told Taranaki Daily News. "I thought 'well, I'll come back and rather than being on the floor, try out the business side of things.'"
Maria even managed to save the jobs of two longtime employees: Nathan Kane and Tyler Willemsen.
"They wanted to get their jobs back so I said 'yeah sure, that's what's going to happen,'" Maria said. "You can't just go out and employ anybody and try to start it, because they know what's going on in here."
Maria reopened the shop last month. With the exception of the new business name and a slight change in uniforms, she plans to keep things mostly the same.
"We'll be carrying on as usual," she said. "We'll get things rolling and maybe make changes as we go on."
Maria added that she's happy to have saved such a unique business that would have otherwise closed, depriving her community of its services.
Please join us in congratulating Maria on her new journey as a business owner!