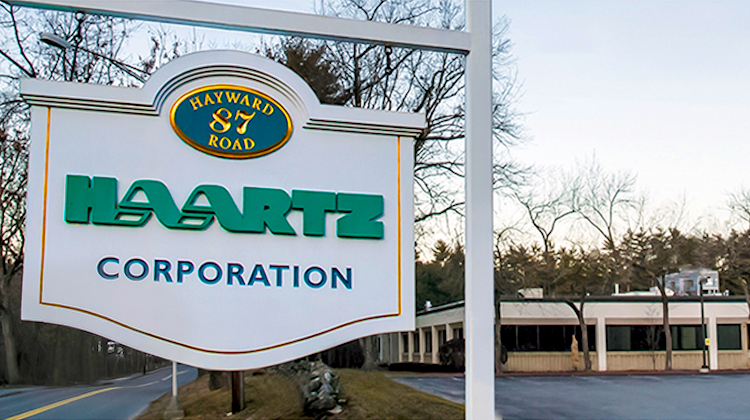 For more than 100 years, automakers have turned to The Haartz Corporation for the highest quality soft top fabrics and other related textiles. But Haartz doesn't just create products for OEMs. They also offer a wide range of fabrics for the aftermarket.
Their aftermarket fabrics, which were on display at the 2017 SEMA Show, are used by virtually every major producer of quality replacement tops, tonneau covers, tire covers, nose covers and more!
We spoke with Phil Hollenbeck, senior account executive in automotive aftermarket at Haartz, about the company's impressive aftermarket fabrics and the benefits they offer.
Here's a rundown of the Haartz aftermarket fabrics you can buy for your next project:
Stayfast®: Sim-Con Tops
Originally introduced in the mid-1970s and still used as a premium cloth convertible topping, Stayfast® replaced Cambria® as the aftermarket industry's premier fabric for simulated convertible tops, or simcon tops, which are intended to make hard-top vehicles look like convertibles.
Stayfast features an acrylic square weave facing, rubber inner-layer and cotton backing. It's available in 11 colors, including tan, burgundy, blue and black.
The fabric comes in two variations: original Stayfast is now primarily for the aftermarket, while Stayfast C is typically used in OEM applications.
"Stayfast with cotton backing was once the go-to premium cloth topping material for OEMs," said Hollenbeck. "It's only recently that OEMs have moved to Stayfast C because of its 100% solution dyed polyester backing that allows for improved strength, dimensional stability and resistance to the elements."
Auto upholstery shops can purchase Stayfast through most major warehouse distributors.
CoverAll™: Tonneau Cover Fabric
Introduced in 1985, CoverAll™ is Haartz's work horse tonneau fabric for the aftermarket.
CoverAll features an embossed PVC fabric laminate face that's available in several colors and textures — including black elk, prairie grain and white prairie grain.
The fabric is waterproof and resistant to UV rays, tears, cracks and shrinkage. Tests show that many low-cost competitors can't match Haartz in any of these categories.
Like Stayfast, CoverAll is available for purchase at major warehouse distributors.
DAN: Premium Tonneau Cover Fabric
Introduced in the mid to late 1990s, DAN is a more premium tonneau fabric for the aftermarket.
DAN features a black woven acrylic face. Its backing consists of a PVC layer, providing for ultimate durability.
Like Cover All, it too is waterproof and resistant to UV rays, tears, cracks and shrinkage. It is only available in black.
DAN is used primarily for upscale products where the consumer prefers the appearance of a genuine textile over a laminate face.
"Pickup trucks are consistently among the top-selling vehicles in the U.S. and we know truck owners invest in them," said Hollenbeck. "We bring our vast knowledge and capability of surface materials to the tonneau cover market, making sleek, durable cover material."
DAN is also available for purchase at most major warehouse distributors.
Forté™: Replacement Convertible Topping
Forté™ is Haartz's premier single texture soft top fabric for the aftermarket. It was introduced in 2014, but relaunched this year with significant enhancements, most notably to its backing.
Forté features a topcoated PVC face and a new, 100% solution-dyed spun polyester backing for improved elongation and bonding properties. The backing mimics the performance of the 100% cotton backings that have been used for decades without the characteristic tenderization and loss of strength over time that has been associated with cotton.
"We feel the Forté construction is so good that we intend to do away with cotton-backed products altogether and transition all PVC toppings to the Forté construction in 2018," said Hollenbeck.
Forté provides superior strength and stability, as well as enhanced acoustics within the cabin. Of course, it also complies with all OEM standards.
The soft top fabric is available in a wide range of colors and grains, including twill, cabrio, sailcloth and pinpoint.
As an aftermarket product, Forté can be used as a replacement or design enhanced-top for all makes and models. It's available at most major distributors, with increased supply due in early 2018.
When it comes to quality aftermarket fabrics, accept no imitations.
"There are a number of imitation products flooding the aftermarket these days, many of which do not meet the stringent performance characteristics, such as UV resistance, abrasion resistance and dimensional stability that have been built into all Haartz products for generations," said Hollenbeck. "With more than 100 years of building quality OEM and aftermarket products, our materials can be counted on to deliver the quality and reliability that discerning customers expect and demand without the use of restricted components."
To learn more about Haartz's aftermarket fabrics, visit Haartz.com.