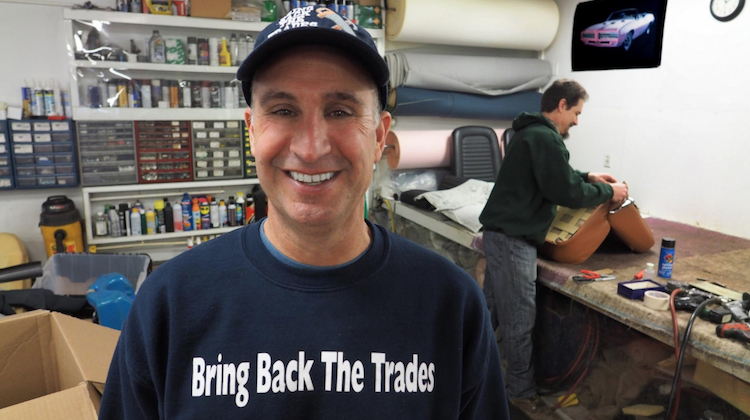 Steve Turner says he can't grow his auto upholstery business in Rye, New Hampshire, because not enough young people are interested in learning the craft.
He's not the only one. Electricians, plumbers and other tradespeople in the area are also worried that a shortage of skilled workers could stifle their success and cause prices to soar.
"I turn down more jobs than I can take," Steve told local news website Fosters.
Steve owns Turner's Upholstery, which he opened shortly after graduating Portsmouth High School 30 years ago. He, along with employee Ryan Burke, focus on restoring high-end vehicles.
Although Steve's shop is successful, he wonders how long he can keep its doors open. He says too many tradespeople — including trimmers — are nearing retirement age, and that their businesses aren't worth very much if there's no one willing and able to take them over.
To call attention to the shortage of skilled workers, Steve printed "Bring Back the Trades" across the front of a hat and wore it around town.
The hat immediately garnered a lot of attention. In fact, a contractor friend saw the hat and ordered 12 for his crew. Not long after, an electrician ordered some with his trade seal added to the design.
Encouraged by the response, Steve launched a website selling hats bearing the message, along with seals for a range of trades: auto professionals, welders, electricians, plumbers, contractors, etc.
Within 30 days, Steve was selling hundreds of hats for $25 each to skilled workers in 28 states. Best of all, he was doing it for a good cause.
"Our goal is to donate a portion of (hat) sales to a scholarship program in which individuals can gain access to the trade education of their choice and ultimately gain employment in that field, which is vital to the growth of our nation," said Steve.
He knows his hats won't solve the shortage of skilled workers, but it could help draw attention to the issue. If he sells enough, he might even be able to fund the education of a few young trimmers.
Now that's a cause we can get behind!
To support Steve's mission to "Bring Back the Trades," visit his website and Facebook page to buy a hat.