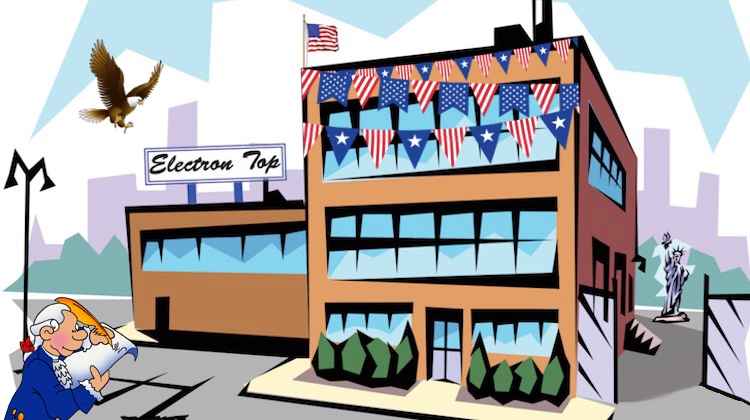 Electron Top's latest issue of "Keep in Touch!" is out just in time for Constitution Week. And it's jam packed with everything you've come to expect from their monthly newsletter: product news, inspirational quotes and even a bit of history.
In regards to product news, Electron Top wants trimmers to know that they carry the rear bow gasket for 1990-2002 Mercedes-Benz SL Series vehicles. The gasket installs over the rear bow between the top and vinyl rear window. It's listed at $140 per gasket.
Also, Electron Top is changing the way they classify some discontinued colors of soft top vinyl, which are still available on special order. These Original Equipment (OE) colors will now be classified as Special (SP) colors on Electron's color charts. For example, OE10 Firethorn/Blk is now categorized as SP10 Firethorn/Blk. It's the same color, just a different code.
For these products and more, check out Electron Top's 2018 Catalog.
Of course, what issue of "Keep in Touch!" is complete without a bit of eye-opening reading? This month, the team writes about Constitution Week, which is September 17-23.
In 1956, former President Dwight D. Eisenhower established Constitution Week for the purpose of commemorating the document. In 2004, a law was passed mandating schools that receive federal funding to use the week as an opportunity to teach students about the importance of the Constitution and American civil rights.
In that tradition, Electron Top is giving away free pocket-size copies of the U.S. Constitution. To get one, simply email your company name and address to Kimmy, Electron Top's office manager, at Kimberly@electrontop.com. Mark the subject as "Constitution."
null
Electron Top is a third-generation, family-owned business that puts their hearts and souls into everything they do. They're honest, fair, loyal and always looking out for us little guys. In fact, Electron Top has vowed to never sell retail, so as to preserve and strengthen the mom & pop shops that make up the bulk of our industry.
Business values like that are rare in this day and age and deserves our support. Please show your appreciation by giving Electron Top your business. To learn more about Electron Top's quality products or to set up a business account, visit ElectronTop.com or call (800) 221-4476.