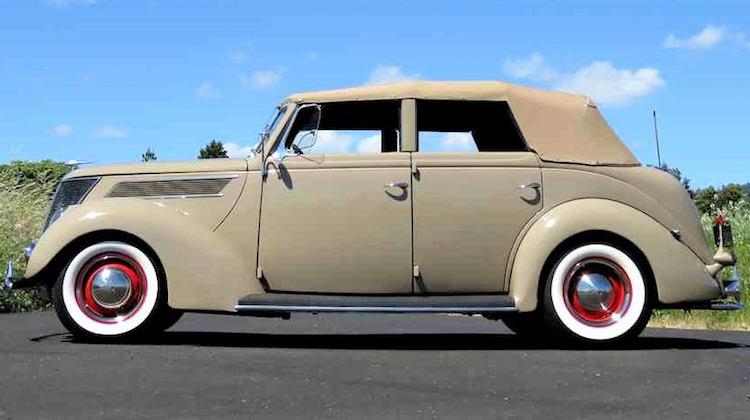 If your auto upholstery shop specializes in classic restorations, listen up: The Haartz Corporation has published a "Vintage Restorer's Guide" — and it's available for free!
Haartz, the world's leading manufacturer of soft top convertible material, is a huge supporter of the restoration industry and often champions efforts to keep automotive history alive.
Case in point: This invaluable guide that makes it easy to identify and track original convertible topping fabric, as well as find adequate substitutes.
CEO Eric R. Haartz says he wrote the guide to make up for a lack of historical record on vintage tops.
"Although the auto industry is more than a century old, the very little bits of documentation about top materials offer limited help to the car hobbyist and restorer. I hope that this guide solves some of the problem of inadequate information," Haartz wrote in the guide introduction.
The guide is comprised of five chapters: (1) General Terms & Types, (2) Details of Components, (3) Information Sources, (4) Current Options for Top Materials, and (5) Glossary A-Z.
Historical records like this are vital to restorers, who face a dual challenge: Not only must their work be of the highest caliber, but also period correct. As a result, these restorers spend a lot of time researching fabrics, parts, supplies and techniques.
Just ask Buckskinz Upholstery, who auto enthusiast Kevin Anderson and Mike Boerema of Gas Axe Garage enlisted to create a custom Carson top for their award-winning Crystal Cadillac.
In an interview, Kevin told The Hog Ring they reviewed "multiple historical documents" before settling on the top's design and fabric. Ultimately, they chose to create it using Stayfast, an acrylic square weave topping by The Haartz Corporation.
"When building a car of this quality, you don't skimp on one of the most important parts of the build," said Kevin. "Haartz products have no peers. The best."
In our own shop, we've consulted Haartz's "Vintage Restorer's Guide" quite a number of times — for jobs and to educate ourselves on the history of soft tops.
To read the full "Vintage Restorer's Guide" and learn more about Haartz Corporation, visit Haartz.com/Introduction-Restorers-Guide.
You can also follow Haartz on Facebook, Instagram and Twitter.