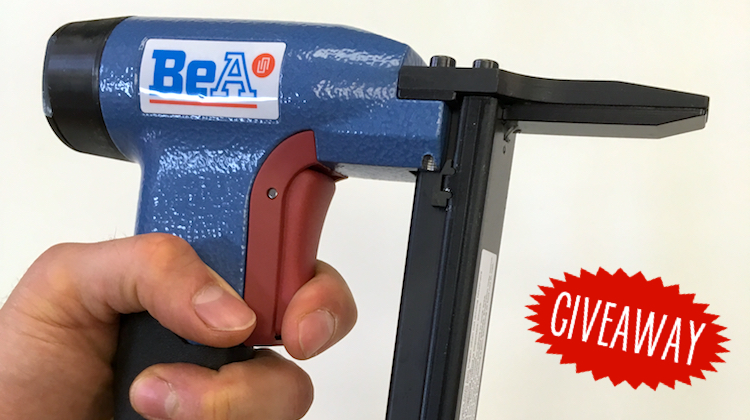 Considering that no auto upholstery shop can run without a staple gun, shouldn't you invest in the best one possible?
In our quest to find and test high-quality tools, we reached out to BeA to review their 80/16-429LN pneumatic staple gun, which the company affectionately calls the "Money Maker."
Not only did they oblige, but they gave us a gun to give away to one lucky member of The Hog Ring community!
What follows is my review — and details on how you can win your own BeA 80/16-429LN pneumatic staple gun.
Who is BeA?
BeA is a German manufacturer of professional tools and fasteners with a long history dating back to 1910.
The company is renowned for its line of staple guns, which are arguably the best on the market. Of course, they also manufacture and sell pneumatic hog ring pliers.
Over the past century, BeA has established a stellar reputation across the globe as a leading manufacturer of the highest quality tools.
What is the BeA 80/16-429LN?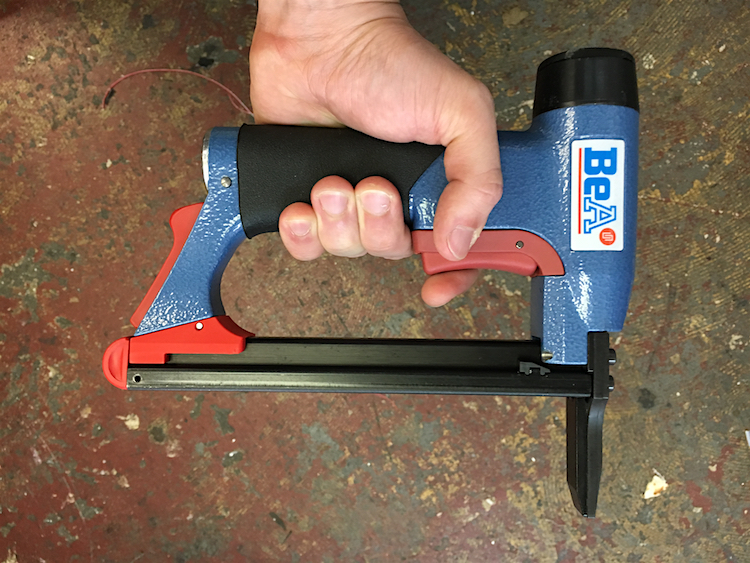 The BeA 80/16-429LN is a pneumatic staple gun, meaning it operates on compressed air and only requires a simple press of a trigger to shoot a staple.
The gun weighs 2.27 lbs. It features a 2″ long nose, integrated silencer, large trigger and full metal body and magazine.
The gun takes 80 series, 20 gauge ½" crown staples. It has a 157 staple magazine capacity and can shoot staples up to 5'8″ long.
Did you give it a try?
Sure did! I put the BeA 80/16-429LN through the ringer at my shop this past week.
I used it on a couple convertible tops, numerous boat cushions and a bunch of gym equipment. The goal was to see how it performs in a range of applications.
So what did you think?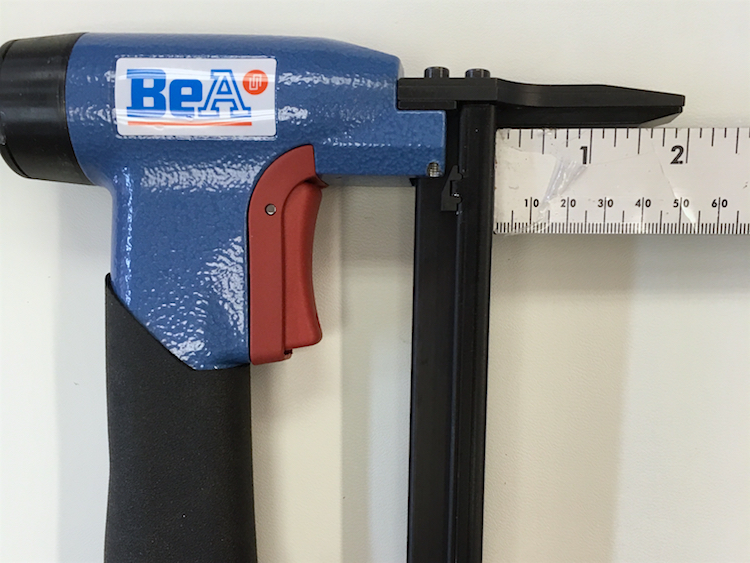 I loved it! The BeA 80/16-429LN is built tough and ergonomical.
The gun has a full metal body that's designed to take years of abuse, but is still comfortable to hold. Not only does it have a rubber grip, buts its weight and dimensions aren't overbearing. Plus, every metal edge is rounded over.
The gun's oversized trigger is very responsive and easy to pull with just one finger. Most importantly, it operates smoothly and without hesitation. I must have shot the gun a thousand times and it never once jammed or skipped a staple.
I especially like the gun's two-inch long nose. It's perfect for getting into deep, hard-to-reach spaces. In my opinion, long-nose guns are an absolute necessity in our craft.
The gun has no safety, which is fine by me. Like most trimmers, I find safeties to be annoying and obtrusive. However, it does mean that you have to be extra careful when using it.
All in all, this is a great, high-quality staple gun that you can use for hours without any issues. That type of dependability is invaluable.
Any other benefits?
I've used too many guns that shoot staples so deep they actually tear through material — but not this gun. Its tongue extends nearly flush with the edge of the nose, ensuring that every staple is driven into the substrate at the perfect depth: enough to fasten the material without tearing through it.
So what are your final thoughts?
A high-quality tool from a name brand company like BeA is an investment worth making. I feel comfortable saying that this gun can easily last 20 years and potentially much longer in any busy trim shop. I highly recommend this staple gun.
Where can I buy one?
The BeA 80/16-429LN sells for $239, which is a bargain considering how long it will last and how much money it'll make you. You can buy one online at Nail Gun Depot, as well as other fine retailers of BeA products.
Did you say I could win a BeA 80/16-429LN?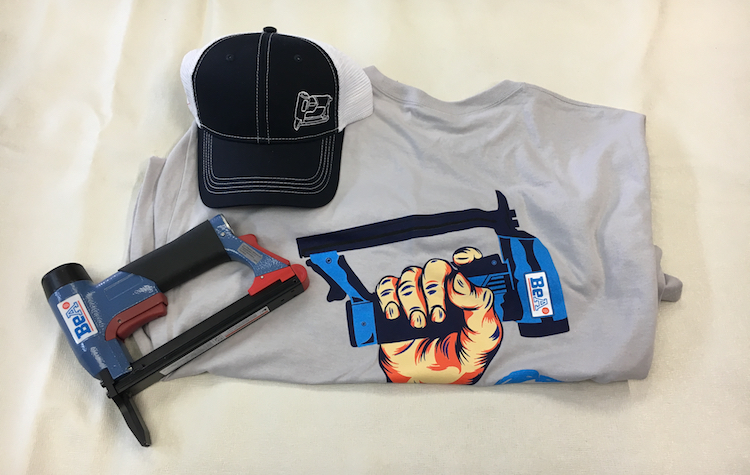 Absolutely! We're giving away a brand-new gun to one lucky Hog Ringer.
To enter the contest, simply post a photo of your staple gun on Instagram or Facebook and use the hashtag #TheHogRing.
The 1st place winner gets a brand new 80/16-429LN!
The 2nd and 3rd place winners get a BeA "Money Maker" t-shirt and hat!
The contest starts on September 24 and ends at midnight. So don't delay! Enter ASAP!
To learn more about BeA, visit their website and follow them on Facebook.