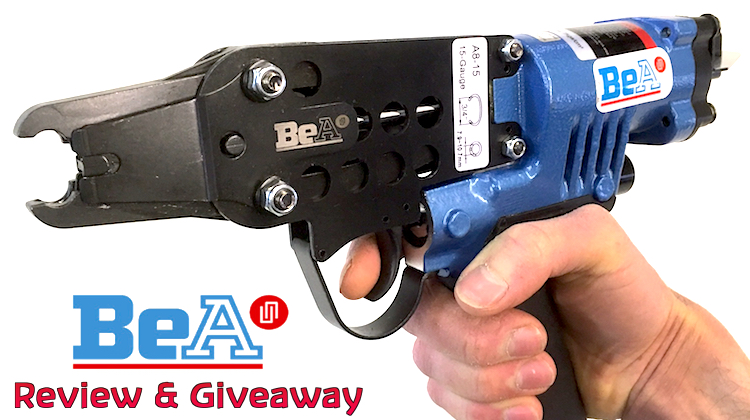 Despite the availability of pneumatic hog ring guns, most auto upholstery pros still rely on old-school manual pliers.
Admittedly, I'm one of them.
It's strange. Over the years, I've adopted a number of technologically advanced tools. But for some reason, when it came to my hog ring pliers, I sorta figured: "Leave well enough alone."
But maybe it's time I get with the program and give a pneumatic hog ring gun a try. They're supposed to be better, right?
Curious, I asked BeA if I could try their CL24-HR 68 pneumatic hog ring gun and they sent one right over.
What follows is my review — and details on how you can win BeA CL24-HR 68.
That's right, we're giving one away!!!
Who is BeA?
BeA is a German manufacturer of professional tools and fasteners with a long history dating back to 1910.
Although the company has a vast product range, they're best known in the upholstery industry for their line of staple guns, which are arguably the best on the market.
Over the past century, BeA has established a stellar reputation across the globe for manufacturing the highest quality tools.
What is the BeA CL24-HR 68?
The BeA CL24-HR 68 is a pneumatic hog ring gun. Pneumatic means it operates on compressed air, and only requires a simple press of a trigger to squeeze a hog ring shut.
The gun weighs 3.52 lbs. and measures 8.6" x 3.5" x 13.7" — which is definitely bigger and bulkier than hand-held pliers.
It uses CL-24 hog rings, which are a strip of 70 hog rings attached together like a stick of staples.
Did you give it a try?
For sure! I exclusively used the CL24-HR 68 for an entire week. During that time, I repaired lots of vehicle bucket and bench seats.
Not once did I pick up my hand-held pliers. I really wanted to see if the gun was just as versatile and effective.
So what did you think?
I've always been a bit skeptical of pneumatic hog ring guns. I figured they were too bulky and awkwardly shaped to fit into tight spaces. However, the BeA CL24-HR 68 proved me wrong.
Its size and weight were very manageable and felt well-balanced in my hand. The extended nose of the gun reached into deep and tight spots just as well as pliers.
While other guns have a vertical magazine just below the nose, the CL24-HR 68 has a rear-loading magazine on the gun's side, which keeps the hog rings horizontal and completely out of the way.
Reloading the gun was a breeze. The CL-24 hog rings come on a stick of 70 and load into the gun in seconds. Best of all, the magazine can fit two sticks at a time.
Blasting through 140 hog rings before having to reload was way more fun than having to reload a hand tool every single time I needed to squeeze a hog ring shut.
Best of all, the gun never jammed. It operated smoothly the whole week through.
I particularly liked how responsive it was. The trigger was really soft and easy to press with just one finger. The hog rings were compressed immediately without delay and were squeezed the perfect amount — not so hard they're crushed and not so soft that material or listings are left loose.
Any other benefits?
Trimmers with hand or wrist pain would especially benefit from the BeA CL24-HR 68.
As a second-generation trimmer, I've seen the toll our craft can have on one's hands. My 70-year-old father has probably squeezed over a million hog rings during his career, and is still at it. However, these days it sometimes hurts him to clench the pliers shut.
Realizing that the wear and tear of even small, menial tasks can eventually compound into serious problems later in life has convinced me to start working smarter rather than harder.
That's why I generally choose pneumatic tools over manual ones. It's just the smarter choice.
So what are your final thoughts?
After spending a week with the BeA CL24-HR 68, I can tell you it's a total game changer. I can't believe I waiting this long before trying it.
Without a doubt, I highly recommend this pneumatic hog ring gun. Go out and get one. Trust me, you won't be sorry.
Where can I buy one?
The BeA CL24-HR 68 retails for $395 and can be purchased online at Nail Gun Depot and Stapler Warehouse.
Did you say I could win a BeA CL24-HR 68?
Hell yea! We're giving a gun away to one lucky Hog Ringer.
To enter the contest, simply post a photo of your hog ring pliers on Instagram or Facebook and use the hashtag #TheHogRing.
The 1st place winner gets a brand new BeA CL24-HR 68!
The 2nd place winner gets a BeA "Money Maker" T-shirt!
The 3rd place winner gets a BeA hat!
The contest starts on April 24 and ends at midnight. So don't delay! Enter ASAP!
To learn more about BeA, visit their website and follow them on Facebook.