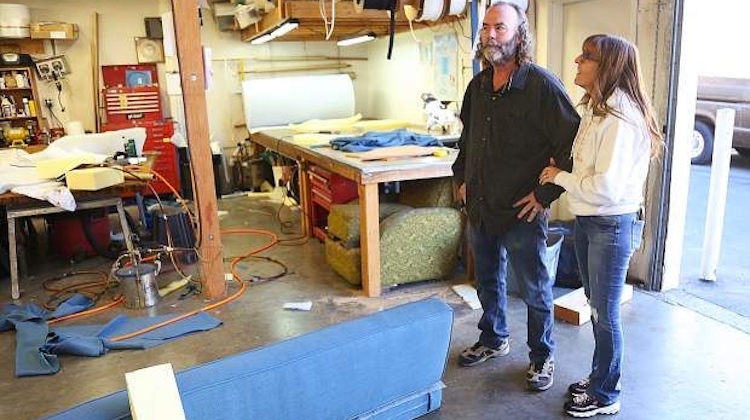 Every successful auto upholstery shop put in years of back-breaking hard work to get where they are today. No one knows that more than Mark and Lori Madonna of Artist Upholstery.
The 33-year-old upholstery shop in Grass Valley, California, was recently profiled in The Union.
What stands out most about the profile is how much hard work the Madonnas put into learning the craft and growing their family business. It all started when Mark was a teenager in high school…
He landed a $3 an hour job in his neighbor's Riverside garage, where he began learning the basics of upholstery.
He discovered he had a knack for it, and soon he was asked to reupholster a neighbor's chairs, then his high school teacher's bucket seats. But the ultimate test came when his brother hired him to do his cherished Mustang.
He passed.
This early experience led to a string of related jobs, including working in a vinyl repair shop and refurbishing street hot rod cars. But it wasn't until Mark's custom craftsmanship appeared in the centerfold of a hot rod magazine that people really began taking notice. He landed a job as manager of an upholstery shop, where he was finally able to make a living wage.
But by the mid-80s, Lori and Mark were eager to get out of Southern California and raise a family in the Sierra foothills. In 1985, they moved north, where Mark opened his first shop, Artist Upholstery, in Auburn. A year later, they moved it to Grass Valley.
"Business was good everywhere," said Mark. "I knew I'd fallen into a really good trade."
Mark's successful business streak has continued through the years. In June, Mark and Lori celebrated their 33rd year in business. While Mark works solo in the large work space in the rear of their Idaho Maryland Road shop, Lori oversees the front office and showroom, where hundreds of samples are on hand for would-be customers.
Patience and hard work are lessons that every rookie trimmer could stand to learn and every veteran trimmer can appreciate. Upholstery — especially auto upholstery — is a craft that takes decades to truly master.
Mark says it best: "My job requires a little bit of drafting, math, construction, staining, fabrication, welding and more. That keeps it interesting."
Skills like that aren't easy to learn. Nor is running a successful business, which is an entirely different skill set.
Profiles like this are important because they remind us that nothing worth having happens overnight. You have to pay your dues. It can definitely be tough at times, but in the end it makes success that much sweeter.
To read the full profile, check out "Artist at work: Details made all the difference for upholstery business." You can visit Artist Upholstery's website at ArtistUpholster.com.