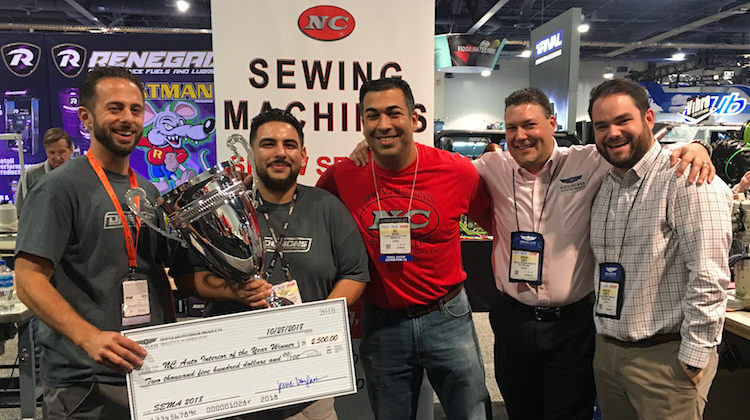 The 2019 SEMA Show is still eight months away, but it's already shaping up to be an event to remember — thanks to the "NC Auto Interior of the Year" award.
NC Carpet Binding & Equipment will announce the winner at this year's SEMA Show in Las Vegas, Nevada. DJ Designs won the inaugural 2018 contest.
"Last year was great," said Mal Maher, CEO of NC Carpet Binding & Equipment. "This year, along with Douglass Interior Products, we're taking this to a whole other level. We expect a ton more entries."
The BIG Prize
The winner of the second-annual award will receive a giant trophy, a $2,000 gift certificate to Douglass Interior Products, a profile in The Hog Ring and coveted bragging rights.
Douglass Interior Products is a supplier of automotive, marine and aviation upholstery. They carry everything from leather to synthetic vinyl and carpet.
Like last year, auto trimmers from all over the country will gather at NC Carpet Binding & Equipment's booth on the 3rd day of SEMA for the winner's ceremony. While there, they can test NC's quality sewing machines, tools, JK Tapes, and more.
Keep reading to see what NC & Douglass are doing on Day 2…
How to Enter
To submit your interior project for judging, follow these simple steps:
1. Upload your photos to Instagram, tagging @NC_Carpet_Binding, @Douglass_Interior_Products and @TheHogRing, as well as using #NCAutoInterorOfTheYear.
2. Email photographs of your project to malmaher@nccarpet.com. Include your name, business name and address, as well as details of your work. The more details you provide, the easier it is for the judges to make an informed decision.
3. Complete the above two steps by November 5.
A panel of master trimmers and industry leaders will choose the winner of the "NC Auto Interior of the Year" award.
More Prizes on Day 2!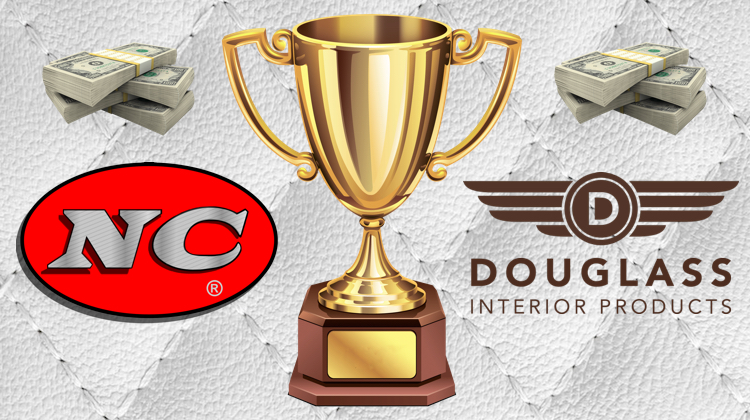 Douglass Interior Products will also offer a prize at their SEMA booth this year!
On the second day of SEMA, Douglass Interior Products will host a drawing for a $1,000 gift certificate towards Douglass Products. NC will be adding to this giveaway by donating one of their new high-end leather skivers. Total value of this giveaway is $2900!
The winner can use the gift certificate to buy anything at Douglass Interior Products, including leather hides, sheepskin and luxury automotive fabrics.
Any trimmer who submits an entry for the "NC Auto Interior of the Year" award will automatically enter into Douglass Interior Products' SEMA drawing.
"Douglass Interior Products is proud to once again be part of the 'NC Auto Interior of the Year' award," said Nick Roberts, marketing director for Douglass. "We think it is so important to highlight all the amazing craftsmanship and hard work that goes into automotive upholstery."
"We're happy to be giving away a cash prize again this year to not only one lucky builder chosen at random who enters the contest, but to the builder chosen by their peers to receive the $2,000 grand prize," he added. "We look forward to seeing the entries this year."
With so many awesome prizes up for grabs, there's no reason not to enter!
The 2019 SEMA Show will be held November 5 – 8 at the Las Vegas Convention Center.
To learn more about NC Carpet Binding & Equipment and check out their high-quality sewing machines, visit N-CCarpet.com. Follow them on Instagram at @NC_Carpet_Binding. You can also visit Douglass Interior Products at DouglassInteriorProducts.com and @Douglass_Interior_Products.