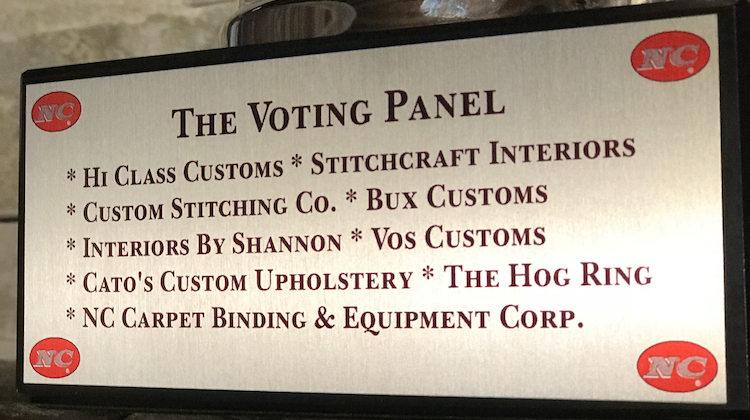 How does your auto upholstery work stack up against other shops? Find out by submitting a recent project for the NC Auto Interior of the Year Award, presented by NC Carpet Binding & Equipment.
The winner of the first annual award will be announced at the 2018 SEMA Show and presented with a GIANT trophy. Displaying this bad boy at your shop will not only look awesome, but also assure customers that you're among the BEST!
If that weren't enough, the trophy also comes PACKED with upholstery supplies and other goodies.
"There are so many excellent craftsmen in this industry that often go unrecognized. We want to change that," said Mal Maher, CEO of NC Carpet Binding & Equipment. "By announcing this award at SEMA we're giving auto upholstery the credit it deserves."
Of course, the winner will also be profiled on The Hog Ring and receive other media attention.
Who are the judges?
This year's award will be voted on by a panel of award-winning shops and industry insiders, including:
The judges will also be at SEMA, but the winning shop doesn't need to attend.
How do I enter?
To submit your project for judging, follow these steps:
1. Email photographs of your project to malmaher@nccarpet.com. Include your name, business name and address, as well as details of your work. The more details you provide, the easier it is for the panel of judges to make an informed decision.
2. Upload one of your photos to Instagram, tagging @NC_Carpet_Binding and @TheHogRing, as well as using #NCAutoInterorOfTheYear.
3. Complete the above two steps by September 15, 2018.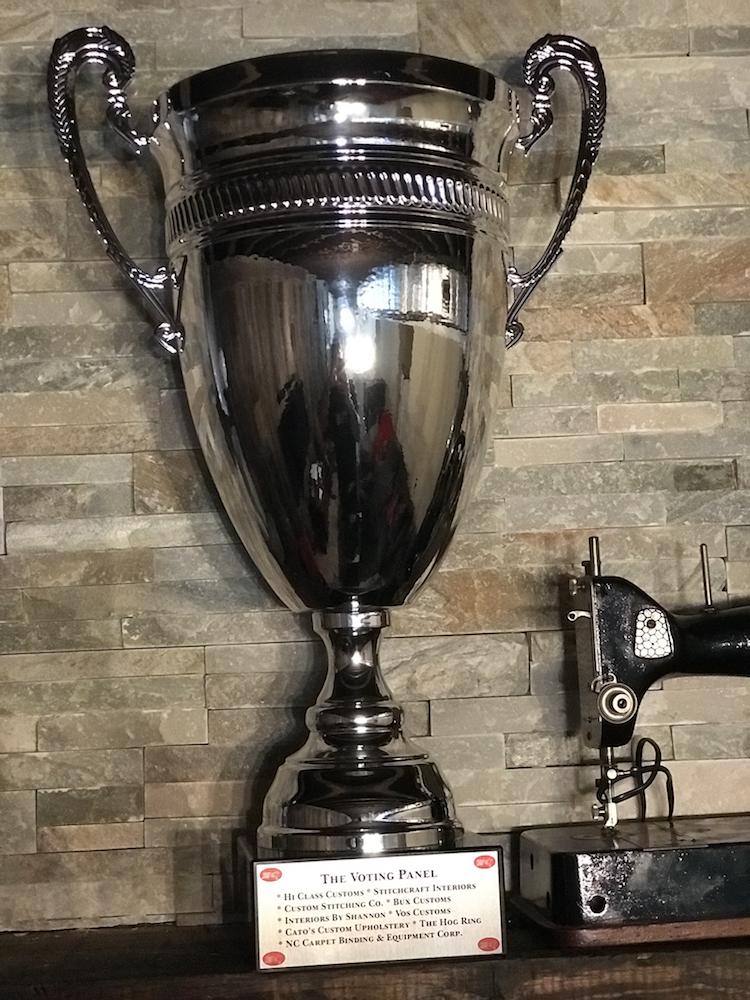 What else can I expect at SEMA?
NC Carpet Binding & Equipment put the craft of auto upholstery front and center at last year's SEMA Show. This year, they're doing it again — only BIGGER and BETTER!
Their 2018 booth will feature a full range of industrial sewing machines and tools for trimmers to see and try. Of course, they'll be offered at a HUGE DISCOUNT! Come take an NC home with you.
"In addition to the NC Auto Interior of the Year Award, we're hosting a free networking lunch for trimmers, planning an epic giveaway and slashing prices on all our industrial sewing machines," said Maher. "This is an event you don't want to miss!"
The 2018 SEMA Show will be held October 29 – November 2 in Las Vegas, Nevada. For details, visit SEMAShow.com.
To learn more about NC Carpet Binding & Equipment and check out their high-quality sewing machines, visit N-CCarpet.com. Follow them on Instagram at @NC_Carpet_Binding.