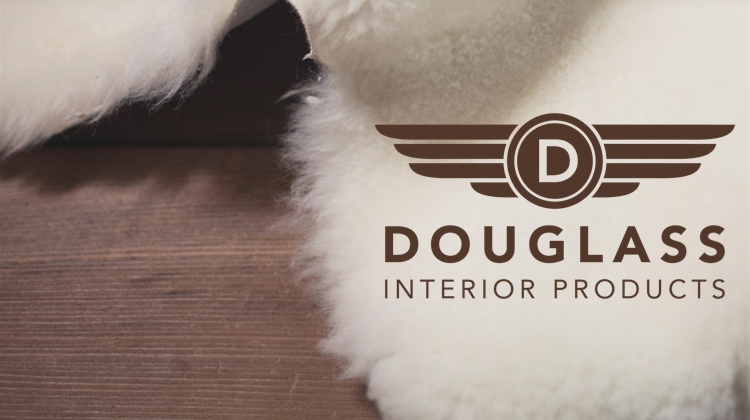 We're happy to introduce The Hog Ring community to our newest sponsor: Douglass Interior Products.
Since 1972, Douglass Interior Products has been providing premium materials for the auto, marine and aircraft upholstery industries. They're renowned for their line of Scottish leather and sheepskin. Of course, they also carry a wide range of synthetic materials, carpets and fabrics.
"With more than 40 years in the interior business, we have a lot of experience with all types of material and installs," said Nick Roberts, director of marketing at Douglass Interior Products.
We met the Douglass team at the 2018 SEMA Show, where they partnered with NC Carpet Binding & Equipment to give $2,500 to the winner of the "NC Auto Interior of the Year Award." As a matter of fact, they're doing it again this year.
We immediately hit it off, loved the quality of their products and were floored by their commitment to customer service. Their mission is to always exceed customers' expectations with consistent, courteous and professional service.
Douglass Interior Products is a family-owned and operated business. As such, they understand and value the importance of small, independent trim shops. That makes them a perfect fit for our growing community.
"We're thrilled to be joining The Hog Ring community," said Roberts. "It's exciting to see such a great community of interior specialists that are so active on this site and we look forward to being a useful resource for any and all interior needs."
Support our sponsors
Sponsors like Douglass Interior Products make it possible for us to continue running The Hog Ring. Without them, there would be no auto upholstery news site, Forum or Design Studio.
Please join us in welcoming Douglass Interior Products to The Hog Ring community. Furthermore, show your appreciation by giving them your business.
To learn more about Douglass Interior Products, visit DouglassInteriorProducts.com. You can also follow them on Instagram and Facebook.
To order their catalog or set up a business account, call (800) 722 – 7272.