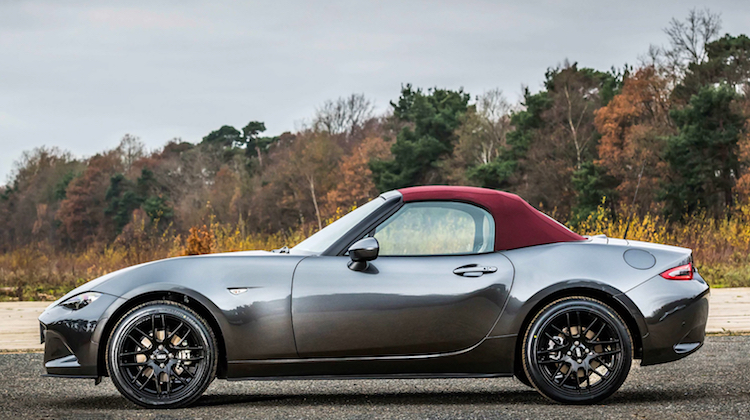 Would you drive a car with a red convertible top?
Auto journalist Bradley Brownell definitely would. In fact, he's damn near obsessed with them.
He recently wrote a hilarious rant for Jalopnik, in which he states why he thinks the red convertible top is superior to all others — especially black and white tops.
Here's an excerpt:
I've owned a few convertibles in my day, sadly all burdened with the boring unsightliness of a black top. Black is the most boring convertible top choice possible. All other colors are better than black. In fact, all color choices are good, but white is awful.
Green tops? Must be used sparingly.
Tan tops? Good.
Blue tops? Excellent.
Red tops? THE TOPS!
Chocolate tops? Don't threaten me with a good time. […]
Most often, however, I like my convertible tops like I like my wines. Red, served chilled, and with a full body.
It's hard to argue with him. After all, have you seen the Mazda Miata's gorgeous cherry red soft top? It's made from Haartz Stayfast C fabric, which features an acrylic square weave facing, rubber inner-layer and filament Polyester backing.
Of course, you don't have to buy a Miata to get a red convertible top. Electron Top and Kee Auto Top make soft tops in a wide range of colors.
So while Brownell rocks a red top, yours can be purple, blue or even orange. Whatever you like!
To read the full rant, see "Red is a Good Convertible Top Color."