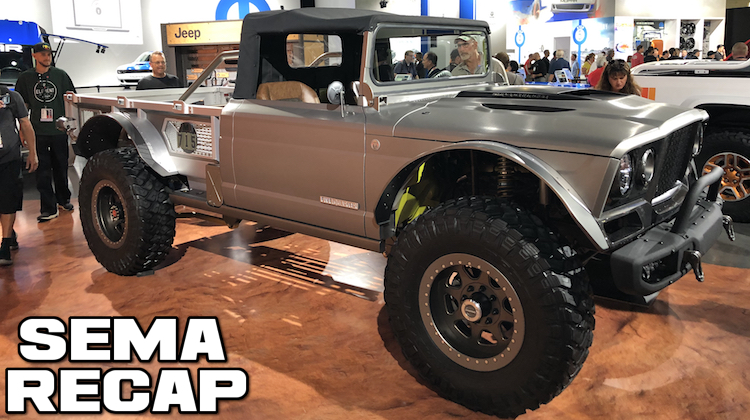 Attendees of the 2019 SEMA Show were treated to a close look at the Jeep Five Quarter Concept, the automaker's all-new, retro-style SUV — which, of course, is topped by Haartz.
The Five-Quarter Concept is based on the 1968 Jeep M715, a tactical off-roader primarily designed for military use. For this latest iteration, Jeep preserved the vehicle's rugged characteristics, but gave it an extra boost of strength and added some modern upgrades.
The Jeep Five Quarter is fitted with a supercharged 6.2-liter Hellcat "Hellcrate" Hemi V8, which is powerful enough to pull its weight and then some. In fact, it's "Five Quarter" moniker is a direct reference to its one-and-one-quarter-ton duty rating.
That's not all! Jeep reinforced the frame and installed a heavy-duty link and coil-spring suspension system, Dynatrac Pro-rock 60 front axle, Dynatrac ProRock 80 rear axle, and big, burly 40-inch tires.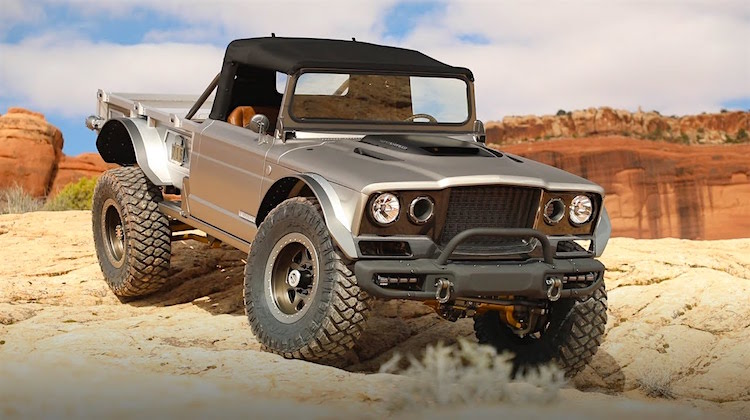 In short, the Jeep Five-Quarter Concept is a BEAST.
But don't confuse its rugged nature and off-road capabilities with an uncomfortable ride. The concept vehicle is equipped with all the latest in-cabin technology and comfort features — including cozy Wrangler seats and a convertible soft top.
The soft top is made from Haartz Corporation's Twillfast RPC fabric, which is an acoustically enhanced three-ply topping material with acrylic twill weave facing, rubber inner-layer and polyester dobby backing.
Compared to the 1968 model, Jeep dropped the convertible soft top an extra 3.5 inches to give the Five Quarter Concept an even more aggressive look.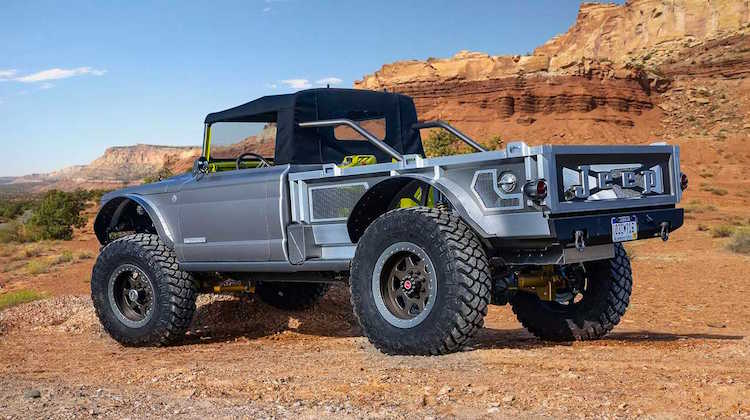 The Jeep Five Quarter Concept was on display in all its glory at the 2019 SEMA Show, as were countless other vehicles topped with Haartz fabric — including many custom hot rods. (Seriously, did you see that 1969 Chevy Camaro with the removable top? Incredible!)
For now, the Jeep Five Quarter is only a concept vehicle. But given the positive response at SEMA, we wouldn't be surprised if Jeep takes it to production sooner than later.
Our fingers are crossed.
The Haartz Corporation is a world leader in highly engineered and uniquely designed convertible toppings. To learn more about Haartz, visit Haartz.com and follow them on Facebook, Twitter and Instagram.