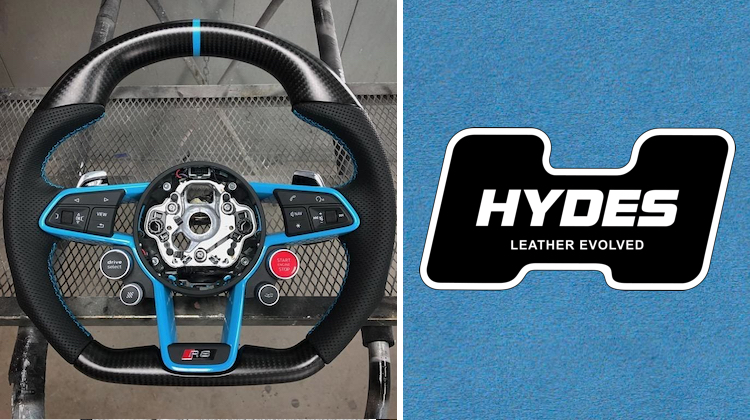 Some trimmers may be surprised to learn that automotive leather and steering wheel leather are not the same.
While both can be used to trim steering wheels, only steering wheel leather is specifically designed for the application. In fact, it provides added advantages.
To understand the difference, we spoke with Aaron Laithwaite, founder and CEO of Hydes Leather. Here's what he told us:
What's the main difference between ordinary auto leather and steering wheel leather?
The two leathers are tanned with different chemical mixtures. Automotive leather features chrome, which creates a stable leather with maximum yield. Steering wheel leather is tanned chrome-free, which causes the leather to shrink when dried.
As a result, steering wheel leather is stronger and less prone to shrinking in the future.
What are the physical attributes of steering wheel leather that make it better suited for the job?
Steering wheel leather looks just like ordinary automotive leather. It's also typically the same thickness.
It can be a little bit stiffer to work with at first, but can be stretched and manipulated as needed. It's perfect for the job.
What are the technical differences?
In addition to being chrome-free, steering wheel leather is surface treated with additional protection against sweat and UV light to further resist wear and tear.
Is it a bad idea to trim a steering wheel in ordinary automotive leather?
It isn't necessarily bad, but leather that is made for steering wheels provides additional durability.
Where can we buy steering wheel leather?
Hydes Leather sells steering wheel leather in 1/2 hides, which average 20-25 sq.ft each.
We stock black and semi-perforated black, which are top sellers. For additional colors, we advise trimmers to use our premium automotive leather.
Hydes also sells Alcantara multilayer steering wheel strips. How is this different than ordinary automotive-grade Alcantara?
Multilayer is a little bit thicker than other Alcantara options, and it stretches differently.
Unlike Alcantara Panel or Cover, which stretch on both axis, Multilayer has unidirectional stretch. This helps when wrapping steering wheels.
---
Ordering from Hydes Leather is quick and easy. Just call (604) 446-0379 or visit HydesLeather.com. While on their website, check out their premium leather, Alcantara and related services, including computerized stitching and custom leather embossing.
You can also follow Hydes Leather on Instagram, Facebook and Twitter.
[Photo via Carbon Fiber Element]