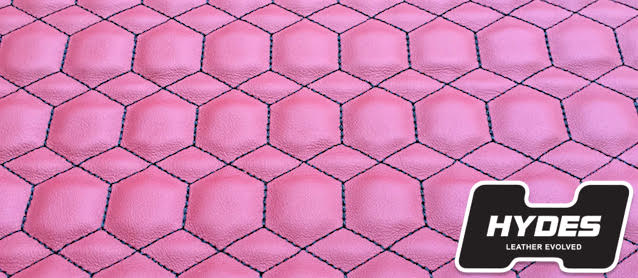 Since computerized sewing machines hit the scene, trimmers have been trying to recreate automaker's unique stitch patterns. However, sewing such complex designs on a traditional sewing machine can be tedious, time consuming and sometimes impossible. Fortunately Hydes Leather will do the hard work for you.
Hydes will sew any pattern you like into their leather, Alcantara or cloth fabric. You pick the material and the stitch pattern and they'll send you as much as you need sewn with your choice of thread color and size. The material comes already backed with sew foam so all you need to do is trace your patterns, cut and sew them together.
Pleat patterns include everything from traditional diamonds to hexagons, squares, Rapide diamonds and more. In fact, Hydes can sew just about any pattern you and your clients dream up.
"It's been a fun addition to our lineup," said Aaron Laithwaite, owner of Hydes Leather. "It's been bringing out the creativity our customers. There's always a new idea or pattern that we've never thought of before."
"We can do almost any pattern a customer can draw up," Aaron added. "We get many requests for OEM patterns, but we also get some really unique ones too. If a customer prefers that his pattern remains exclusive, we have no problem with that. But we find that the shared ones seem to evolve into even more creative designs that come back around."
Just ask Ryan Nettleton of Exact Art Fabrications in Philadelphia, Pennsylvania, who recently tapped Hydes Leather for two projects, including a killer hexagon-diamond hybrid pleat.
"With technology constantly changing, it's also changing what's possible in our industry significantly," said Ryan. "Hydes Leather is at the forefront of these changes. Aaron and the team at Hydes have helped me take some of my ideas, that could have taken me weeks to personally pattern and stitch, from idea to reality with extreme precision."
"The CNC embroidery service they offer has saved me some serious time while helping me provide my clients with some extremely unique designs," he added. "Twice I have used the service so far and look forward to using it again in the near future."
Best of all, ordering is quick and easy. Here's how to do it:
Purchase a quality hide from Hydes Leather. They typically embroider in 1/2 hide increments, as that's as much as their machine can handle. However, they can also work with clients in smaller sizes if the pattern is specific to each seat insert.
Choose a stitch pattern or send Hydes your original artwork with scale. They prefer to receive the artwork in digital format, but can also take sketches and turn them into digital proofs.
Hydes will do the work and ship out your order in about 2 weeks.
As Ryan said, the service is extremely cost effective — especially when you take into consideration how many hours some of these complex patterns could take to sew and multiply it by your hourly rate.
Trust us, this service is a game changer…
For more information call Hydes Leather at (604) 446-0379 or visit HydesLeather.com. You can also follow them on Facebook, Twitter and Instagram.