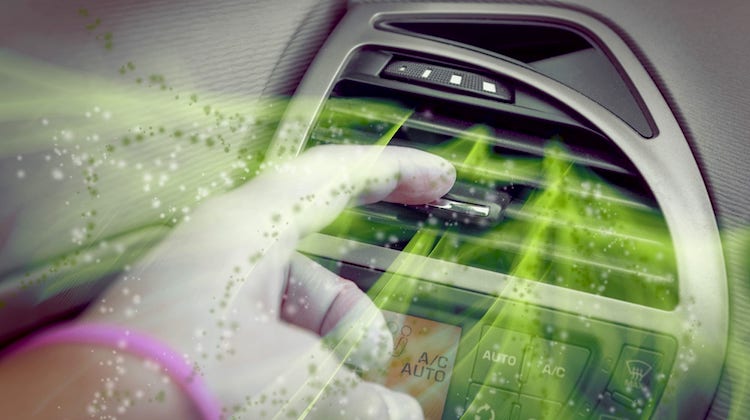 The global coronavirus pandemic is forcing automakers to rethink how they design car interiors, especially as it pertains to your health.
"The pandemic will change our perception of how we experience safety and luxury in the future," Gorden Wagener, Daimler's head of design, recently told Bloomberg. "This can be a challenging but an exciting time."
Wagener isn't talking about head restraints and airbag systems. Rather, he means anti-microbial fabrics and air purifiers — technology that will keep drivers and passengers safe from bacteria and airborne pathogens.
"The future more than ever will be about the freedom of going places safely — and these cars will be more than ever about their interior," said Felix Kilbertus, head of exterior design for Rolls-Royce.
"The idea of the interior as a grand sanctuary has become very relevant," he added. "I believe it is a transformation that this current situation accelerates."
To that end, automakers are developing technology that promotes passengers' health and wellness. Some have already begun.
Healthier Car Interiors
In Asia, Volvo, Hyundai and Nissan have already equipped vehicles with air quality monitoring systems. And Infiniti offers a purifier that sterilizes pathogens and blocks polluted air and particulate matter from entering cabins. Meanwhile, Peugeot-Citroen created an air purifier that not only filters out 90% of pollutants, but also kills mold and bacteria.
In the West, the technology isn't as common. But Mercedes-Benz and Volvo do offer optional air purifiers and fragrance disseminators. Rolls-Royce and Bentley offer high-end air filtration systems that remove particulates and pollen, keeping passengers free of allergens. And Tesla boasts its HEPA filtration system can reduce pollution to "undetectable" levels.
Some automakers have taken it a step further, focusing on mental and emotional health too. Mercedes-Benz, for example, offers an "energizing comfort" setting which guides passengers through a 10 minute exercise to promote circulation, breathing and inner calm. And to reduce anxiety, Rolls-Royce and Bentley have developed cabins said to be as quiet as recording studios.
A New Reality
That's just the start. Automakers told Bloomberg they will continue investing in technology that promotes health and wellness because that's what car buyers want and need. The coronavirus outbreak has only affirmed that belief.
And those automakers that have already developed such technology for Asia, will soon begin introducing them to cars manufactured for the U.S. market.
"People want to feel protected, and now with the pandemic, even more so," said Adam Hatton, creative director for exterior design at Jaguar Land Rover.
As pandemics and other health crises become more common, automakers say the public can expect cars to meet the challenge. It's a new reality that's quickly changing how designers think about car interiors.