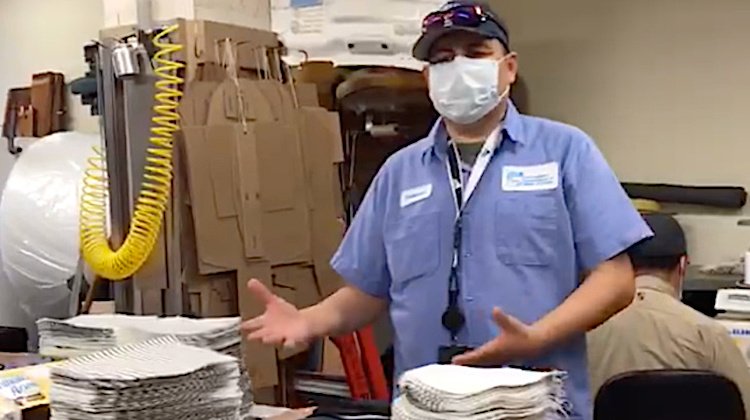 One auto trimmer is keeping Los Angeles' entire workforce of linemen safe and the city's electric power grid running smoothly by manufacturing fire-resistant face masks.
Francisco Villalobos Casillas, the only auto upholsterer on the city payroll, is repurposing fire-resistant uniforms to make masks for thousands of workers employed by the LA Department of Water and Power.
These workers climb electricity poles and work on high-tension power lines to keep the city's electricity up and running. As if the job wasn't dangerous enough, the coronavirus pandemic has made it doubly so.
To shield workers from catching the virus, Mayor Eric Garcetti has issued an order that they must wear face masks while on the job. The problem is, linemen are only allowed to wear fire-resistant clothing, and with a nationwide shortage of face masks, fireproof ones are nearly impossible to find.
"A lot of our orders that we placed were being redirected and rerouted to New York," the epicenter of the pandemic, Dave Hanson, assistant director of power, told LAist.com.
That's when Hanson got the idea to ask Villalobos Casillas to start making masks.
"When they asked me if we can produce something in-house, I thought, yeah, I just need a few things," Villalobos Casillas said. One of those was fire-resistant fabric.
But with fabric also in short supply, they had to get creative fast. Otherwise, linemen couldn't report for work and the city's electric power grid would suffer.
To solve the problem, they decided to repurpose the workforce's back-up supply of work uniforms. "We cut up shirts and pants and handkerchiefs that we had in hand," Hanson said.
And with Villalobos Casillas' expertise in pattern making and sewing, he's been able to make fire-resistant face masks to the tune of 200 a day.
Without him, the second largest city in the United States might be experiencing electricity shortages right now.
Now that's what we call an essential worker!